Kate Murphy on pace to become all-time high school great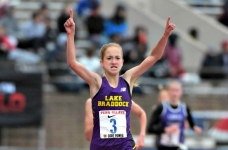 October 27, 2016
"Kate is more focused and driven this season, I think there is a little less pressure now that she is committed to a college and she has had the chance to go to many different places."
By Steven Dilsizian, USA TODAY Sports
Kate Murphy looks to cement herself as one of the all-time greats in middle distance running in her final year at Lake Braddock High School in Burke, Va.
Murphy boasts a prestigious track record, with the third-fastest U.S. prep time in history for the 1500 meters (4 minutes, 7.21 seconds). In June she ran the second-fastest junior outdoor 3000 of all-time (9:10.51), according to USA Track & Field.
With these times, Murphy joins some impressive teen phenom runners. Mary Cain and Alexa Efraimson are the only other non-seniors to hold a U.S. prep all-time mark in the top eight in both the 1500 / Mile and the 3000 / 2 Mile, according to Flotrack.
Cain and Efraimson went on to turn pro before their senior years.
Murphy, an American Family Insurance ALL-USA selection last season, has the coming months to surpass the times of Cain and Efraimson, but that isn't her priority.
Continue reading at: www.usatoday.com