Matthew Centrowitz's path post-Rio gold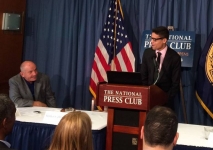 December 14, 2016
"I'm just enjoying the whole journey, this moment, this whole experience, and really just taking it in. Although my gold lasts forever, this moment doesn't. I'm really just soaking it all in."
By Noah Frank, WTOP.com
WASHINGTON — It's a funny thing, watching Olympic coverage from a non-American broadcast affiliate. Gone is the homerism, the constant pushing of the nationalistic narrative, with a more objective tilt taken to the entire affair.
This is even funnier when watching an American win an event, or one that perhaps wasn't expected to, like Beltsville, Maryland, native Matthew Centrowitz in the men's 1500 meters at the Rio Olympics this past August.
Right from the start, the commentators set the stage for anyone but Centrowitz, declaring that "already, they're playing into the hands of the sprint finishers," despite the American gaining the inside rail and dictating the pace. They were almost laughing at the sluggish start — a 66-second opening lap — emphasizing those lurking in the wait.
But as the swell picked up, Centrowitz maintained his position, muscling back into the lead along the backstretch leading into the bell lap. Not until just over 300 meters to go was the possibility of his win even acknowledged in the broadcast.
In the final 120 meters, the announcers were searching for any name that might catch him, not believing he would win until he actually crossed the line, and even then maybe not.
Continue reading at: wtop.com