Olympic bronze medalist Rod Dixon: Kiwi Rio trio value the history of the 1500m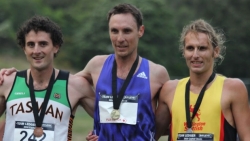 August 05, 2016
"I had an incredible feeling of connection with them. I know they called Quax too. They value the history as I did and that's what connects us and that's the glue that holds us all together."
By Phillip Rollo, Stuff
Rod Dixon knows what it is like to have a mate on the Olympic Games start-line alongside him.
The middle-distance legend ran with Tony Polhill in the men's 1500m when he captured a bronze medal in Munich in 1972 and then joined Dick Quax in the 5000m in Montreal four years later, Quax securing silver and Dixon crossing in fourth.
He said if Julian Matthews, Nick Willis and Hamish Carson line up in the Olympics Games final together it would be a huge psychological advantage. He also said it would be "unbelievable" to watch.
"Polhill and Dixon lined up together in 1972 - the two black singlets next to each other so it can happen. But three of them - it would be pretty powerful," he said.
Continue reading at: www.stuff.co.nz