Olympic champion Centrowitz returns to Broadneck, inspires high school athletes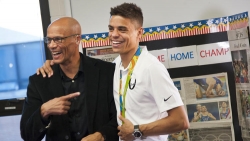 November 09, 2016
Students admired his humility, his athleticism — and the gold medal hanging from his neck.
By Cindy Huang, Capital Gazette
Broadneck High School student Julianna Fernandez lifted up her foot so 2016 Olympic gold medalist Matthew Centrowitz could bend down and sign his name on it.
"These are my favorite shoes now," she said.
Fernandez, a high school runner, said Centrowitz is an example that Olympians can come from anywhere.
"We run on the same track as him, same loop," she said.
Centrowitz won first place in the 1500 meter Olympic race this summer in Rio, marking the first time an American athlete won a gold medal in the event since 1908. A Broadneck High School graduate, Centrowitz returned to his former school Monday to share his success with students and staff.
Continue reading, includes video, at: www.capitalgazette.com