Ostler Runs in Sir Roger's Footsteps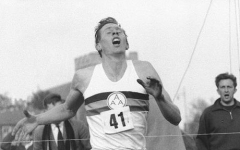 August 08, 2012
I silently retire from competitive ghost-chasing. No longer in training, I hie to a quaint pub in downtown Oxford and, to the spirit of Roger Bannister and unbreakable barriers broken, hoist a pint.
By Scott Ostler, San Francisco Chronicle
OXFORD, England -- The rain begins falling just as I arrive at the Iffley Road Athletics Track at Oxford University, where Roger Bannister broke the 4 minute Mile barrier.
Perfect.
This is the same weather, breezy and drippy, that Bannister encountered in 1954 when he arrived for his run.
He considered postponing his quest but decided to go for it. So if I'm going to run with Bannister's ghost, I can't wimp out.
OK, "ghost" is poetic license. Sir Roger is still alive and in fine fettle at 83.
I have come to run a Mile on Bannister's track, to see one of the world's true sporting shrines and pay homage to the great feat.
Bannister came here to break through what fellow runner John Landy called a "cement wall," a barrier psychological and, many believed, physical. Bannister came to prove that man can run a Mile under 4 minutes.
Continue reading at: sfgate.com