Phil Knight: I would have tried to sign Roger Bannister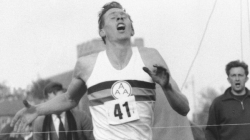 October 01, 2015
"A lot of people said it was impossible. I was a junior in high school [when Bannister broke the 4 minute barrier] and my history teacher says, 'The stopwatches were wrong, a human being can't run that fast.'"
By Nick Zaccardi, NBC Sports
It's no surprise that Nike co-founder Phil Knight, when asked by USA Today which athlete he wished he could have signed to his company from before it was founded in 1964, picked a track & field star.
His answer to the hypothetical question was Roger Bannister, who in 1954 became the first human to run a Mile in under 4 minutes.
"Track & field has a special place in my heart, #1," Knight, a former University of Oregon runner who announced at age 77 earlier this year he was stepping down, told the newspaper. "#1, breaking the 4 minute Mile."
Continue reading at: olympics.nbcsports.com