Roger Bannister's four-minute Mile spikes sell for £220K at auction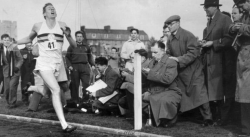 September 10, 2015
The spikes worn by Sir Roger Bannister when he ran the first sub-4 minute Mile have gone under the hammer at auction for £220,000 / $340,000 after two-and-a-half minutes of bidding.
From The BBC
Sir Roger Bannister, now 86, achieved his record-breaking feat at Oxford's Iffley Road track on May 6,1954 when he was 25.
The shoes, made by GT Law and Son, had a reserve price of £30,000 to £50,000 at Christie's in London.
Sir Roger said they were "the last tangible link" he had to his achievement.
Sold to anonymous phone buyer
He said they had "served me great purpose, I'm grateful to them" but added: "I think it's the right time to part with them."
Kate Summers, from Christie's, said: "Since announcing the sale of Sir Roger Bannister's running shoes, we have received a great deal of interest from across the globe.
"When bidding opened there was great anticipation. After two-and-a-half minutes of bidding, they were sold to an anonymous buyer on the telephone."
Continue reading at: bbc.com