The Best Mile Moments of 2018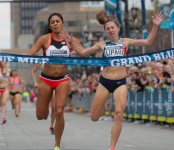 December 20, 2018
Record annual prize money awarded exceeds $650,000; Herrera & Lipari BBTM Grand Prix Tour champions, greatest women's Mile ever, BBTM Effect continues and more!
By Ryan Lamppa, Bring Back the Mile
Bring Back the Mile, since its first year in 2012, has compiled an annual highlight summary of the Mile, and like recent years, the athletes & the events in 2018 continued the tradition of elevating & celebrating the storied distance that enlarged The BBTM Effect footprint. Without further ado, below are the Mile's best moments of the year.
BBTM EFFECT FAST FACTS
► For the 6th consecutive year, Mile event prize money grew, showing an impressive 23% gain from $542,850 in 2017 to a record $668,320 in 2018. Since BBTM's 2012 inception, prize money at Mile events has grown by more than $525,000 or 382%!
► In 2018, at least 40 competitive Miles debuted, awarding more than $70,000 in new prize money with $20,000 at the Brooks Beasts Desert Throwdown in Las Vegas and $14,000 at the Guardian Mile in Cleveland.
►This year, an annual record 29 U.S. men ran their first sub-4 minute Mile on the track, and as a result, for the 13th consecutive year, the first sub-4 U.S. annual number again hit double digits with an average of 23 first-timers since BBTM's 2012 launch compared to 7 per year from 1957-2011.
► In 2018, four U.S. women recorded their first sub-4:30 track Mile, and since 2012, first-time U.S. women to this select club have averaged 6 per year compared to 1 per year from 1975-2011.
► For the year, Americans Eric Avila, Craig Engels, Sam Prakel & Rob Napolitano recorded the most track sub-4s with 6 each, while rising star Shannon Osika (USA) had the most sub-4:30s with 4.
► The 5th Bring Back the Mile Grand Prix Tour presented six top U.S. Mile races that awarded an overall Tour prize purse of $126,500 plus $10,000 GP money. Daniel Herrera won the men's Tour, while Emily Lipari defended her GP title, winning two events, one the USA Road Championship at the Grand Blue Mile.
The Mile's Big Day – January 27
Saturday, January 27, 2018 was an historic day for the Mile in many ways. First, at the Dr. Sander Invitational in New York City, Kate Van Buskirk set a Canadian indoor record of 4:26.92 to lead four other women under sub-4:30, including the University of Missouri's Karissa Schweizer who finished third in 4:27.54. Schweizer became the 4th fastest female collegian indoors and also the 74th U.S. woman to record a sub-4:30 track Mile.
Next, in Albuquerque, NM, Edward Cheserek ran a scintillating 3:54.73, the fastest indoor all-time and second fastest Mile at altitude. Only fellow Kenyan and legend Kip Keino has a faster altitude Mile (3:53.1).
To cap the day, Emmanuel Bor became the 500th American to record a sub-4 minute Mile, clocking 3:58.77 at the BU John Thomas Terrier Classic in Boston. For his milestone feat, Bor earned a $500 bonus from Running Warehouse & BBTM.
Cheserek at Camel City Elite – February 3
At the Camel City Elite indoor meet in Winston-Salem, NC, Edward Cheserek backed up his impressive altitude Mile with a facility & state record 3:53.85 on the flat 200 meter track. Cheserek pulled five other men under 4 minutes, including 2016 Rio Olympic 5000m silver medalist Paul Chelimo who ran his first sub-4 (3:58.59). Earlier, Chelimo had defended his 3000m title in 7:52.88.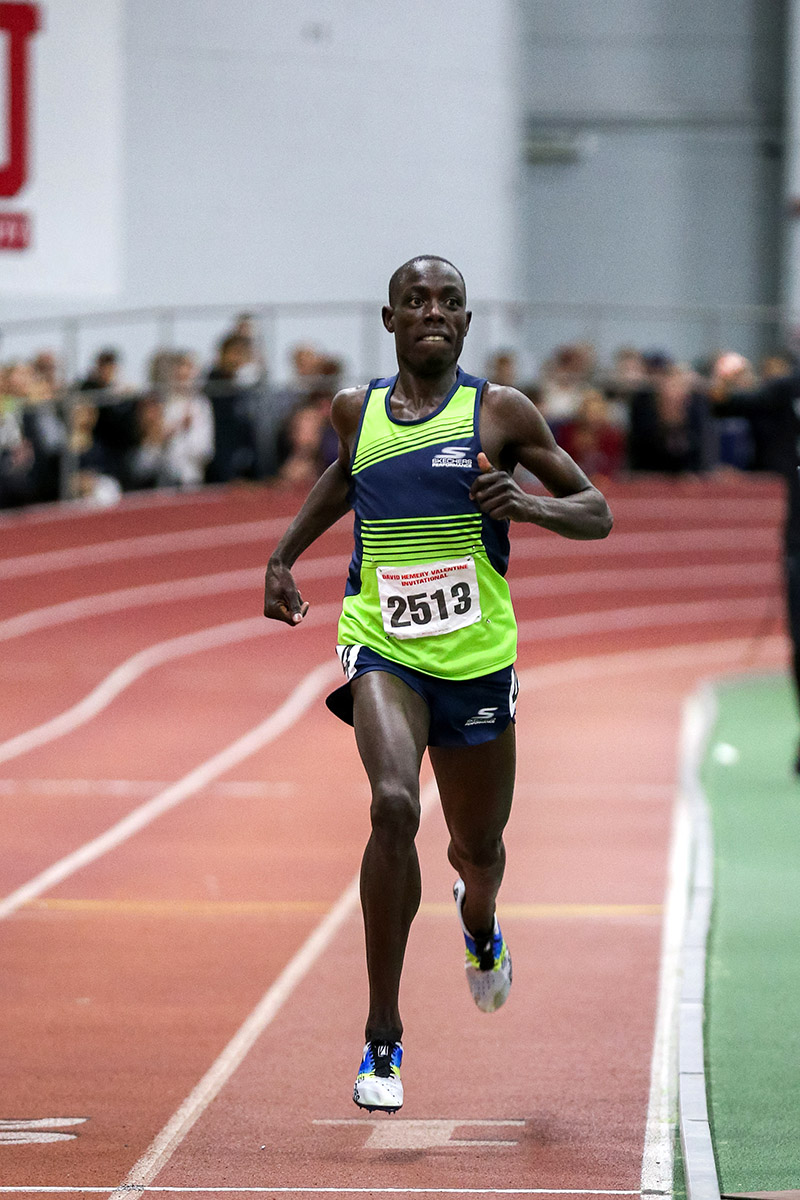 Cheserek Continues Hot Streak! – February 9
On the ultra-fast Boston University indoor track, Ed Cheserek (left, PhotoRun.net), with the help of two rabbits, ran only the 4th sub-3:50 Mile ever under the roof, breaking the beam in 3:49.44, #2 all-time indoors. This historic performance also shattered his own Kenyan indoor record (3:52.01 from last year) and broke legend Eamonn Coghlan's long-standing U.S. All-Comers indoor record (3:49.78 from 1983).
In addition, for only the second time in the sub-4 era since 1954, the fastest track Mile was produced indoors for a given year; the last time, Matthew Centrowitz's 3:50.63 in 2016.
Merber Marks First Track Sub-4 in Santa Barbara – April 13
Kyle Merber won the inaugural HOKA ONE ONE Santa Barbara Elite Mile, clocking 3:57.74, the first track sub-4 in the scenic California coastal city ever! Three other men also went under the 4 minute benchmark: runner-up Eric Avila (3:57.91), Daniel Estrada of Mexico (3:57.92) and Graham Crawford (3:59.92). Merber took home $4000 for his performance: $1500 for the win plus $2500 first sub-4 Santa Barbara bonus.
Masters, Lipari Win First USA Titles – April 24
In exciting, down-to-the-wire finishes in downtown Des Moines, Riley Masters and Emily Lipari bested their respective fields to win the 9th Grand Blue Mile, the USATF 1 Mile Road Championships, clocking 4:04 and 4:33, respectively. The event was also the first stop on the BBTM Grand Prix Tour 2018.
Collier Clocks Fast Dream Mile: #9 U.S. High School Girl – May 19
At the adidas Boost Boston Games, with her girls Dream Mile dominant win of 4:38.48, Caitlin Collier (The Bolles School, Jacksonville, FL) became #9 U.S. all-time high school girl and #6 U.S. HS-only all-time as well as shattering the Florida HS state record. Brava! Michael Phillips won the boys Dream Mile in 4:08.03 for a Florida state sweep.
Ingebrigtsen Breaks Webb's HS Mile Record at Pre Classic – May 26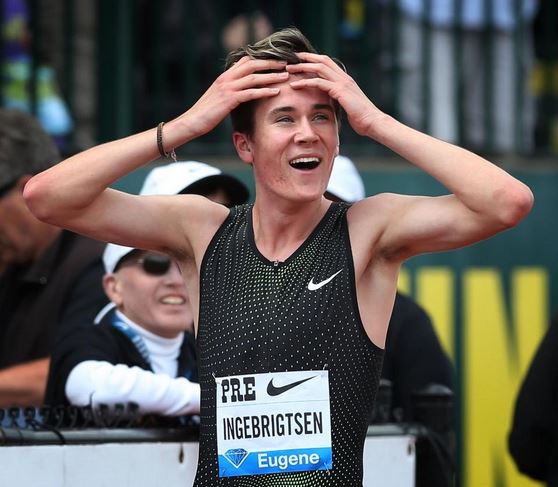 In the last Prefontaine Classic at storied Hayward Field, Norway's teen phenom Jakob Ingebrigtsen (right), 17, finished an impressive 4th overall against a world class field, strongly crossing the line in 3:52.28. His mark bettered American Alan Webb's 3:53.43 high school Mile record from the 2001 Pre Classic.
Simpson Stars at FBK Games Mile – June 3
At the FBK Games in Hengelo, The Netherlands, against a top international field, 2016 Olympic bronze medalist Jenny Simpson won the Mile, breaking the beam in a world leading 4:25.71. The American star led 13 women under 4:30, tied for the second most ever on the track, and also an impressive 11 women set personal records.
Tuohy Breaks Longstanding U.S. High School Outdoor Mile Record – June 17
At the New Balance Outdoor Nationals in Greensboro, NC, Katelyn Tuohy, a North Rockland High, NY sophomore, impressively and handily won the Mile in 4:33.87 to break Polly Plumer's longstanding outdoor high school record of 4:35.24 from 1982. Tuohy also crushed the meet record of 4:36.95 by Sarah Bowman in 2005.
Only Mary Cain & Alexa Efraimson are faster in the U.S. Girls HS Mile, both indoors (4:28.25 and 4:32.15, respectively from 2014), but Tuohy's time is the fastest Mile in a HS-only girls competition.
In 2018, the teen talent also set the outdoor 2 mile national record in 9:51.29 and the indoor 5K record in 15:37.12.
Greatest Women's Mile Ever – July 22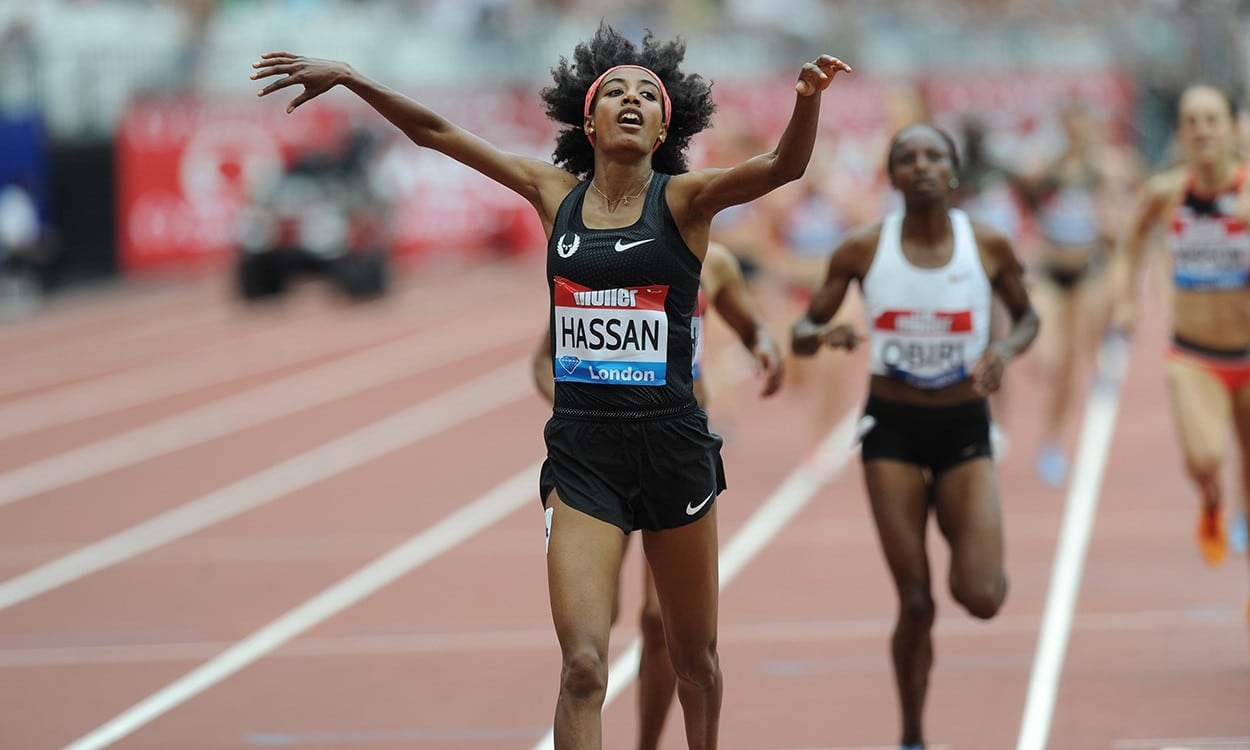 For the second straight year, an incredible, historic women's Mile at the Müller Anniversary Games, London Diamond League meet: the greatest ever contested! Consider: winner, photo left, Sifan Hassan's 4:14.71 (#3 all-time & fastest women's Mile in July), also #6 and #7 all-time (Gudaf Tsegay (ETH), 4:16.14 and Hellen Obiri (KEN), 4:16.15 NR) , 4 national records plus best time for place 2-12 and 10 personal records! #SimplyTheBest
Record Number of U.S. Men Sub-4 at Sir Walter Miler – August 3
In exciting finishes at the 5th Sir Walter Miler in Raleigh, NC, Lopez Lomong and Charlene Lipsey won their respective races in 3:53.86 and 4:27.28. Lomong, a two-time Olympian, set a meet record, while Lipsey clocked her first sub-4:30 and also pulled runner-up Sara Vaughn to her first track sub-4:30 (4:27.31). Overall, a record 13 U.S. men went sub-4 minutes in the same race, including Charlie Marquardt and Jacob Thomson who joined the Sub-4 Club (3:55.79 and 3:57.07).
Murphey Mile Magic! – August 25
At the Ed Murphey Memphis Mile, two rising stars shone brightly: Eric Avila & Shannon Osika. In the men's race, Avila, 28, jetted past three – Ryan Hill, defending champion Craig Engels & Johnny Gregorek – in the final meters to secure the thrilling win in 3:55.43, a Tennessee state and personal record. At the second edition and 4th BBTM GP Tour 2018 stop, 9 men overall went sub-4. For the women, Osika, 25, followed the sub-4:30 pacesetter and went unchallenged over the gun lap for a dominant victory, clocking 4:25.47, also a state and personal track record. The duo's historic races were selected as the Tour 2018 Performances of the Year.
Simpson Superior Again at 5th Avenue Mile – September 9
Against top international fields, American Jenny Simpson raced to her record-extending 7th title, while Great Britain's Jake Wightman picked up his first victory at the New Balance 5th Avenue Mile, 4:18.8 and 3:53.5, respectively. A record-tying 17 women in same race went sub-4:30, and overall, under a steady rain on Manhattan's most famous thoroughfare, there was an event record 7,704 finishers.
In Memoriam
The sport lost three legends & ambassadors in 2018. We knew this day would come: the death of a great man – a universally enduring, esteemed and endearing legend in every sense of the word as worldwide homage, news stories and social media trending attested. On Saturday, March 3, 2018, surround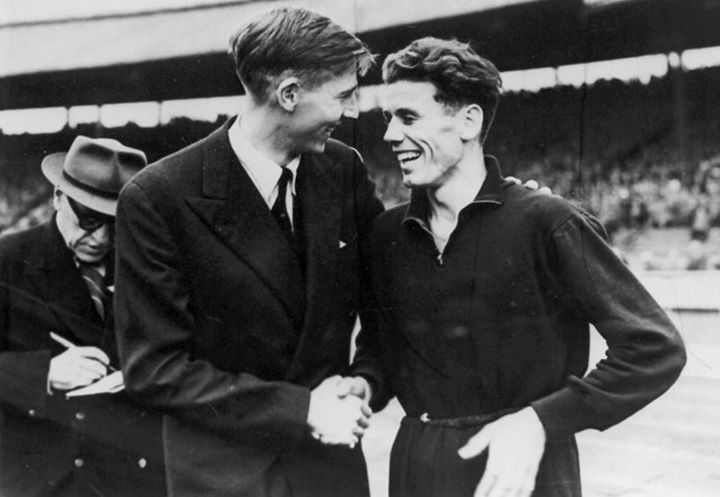 ed by family in Oxford, England, Roger Bannister, the first man to break 4 minutes in the Mile, passed away at 88. Here's to the man who made the mile, The Mile, and more. Raise your glass. Hear, hear!
László Tábori, the third man to go sub-4 in 1955, passed away on Wednesday, May 23 in Los Angeles. He was 86. We honor his memory as an athlete, Hungarian Olympian, world record holder, coach, storyteller, good man, friend and legend.
Diane Leather (Charles), the first woman sub-5 minutes also in 1954, died on Wednesday, September 5 at age 85. The 1960 Olympian improved the women's world best for the Mile on an unprecedented five occasions from 1953-55, and by a total of 23 seconds, taking it from 5:08.0 to 4:45.0, a time that remained unbroken for 7 years.
A fond farewell to three titans who will be long-remembered, recognized and celebrated for their contributions in the sport and beyond.