The Best Mile Moments of 2022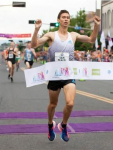 December 30, 2022
Nick Willis' record 20th consecutive year sub-4, annual record of first U.S. sub-4 shattered, annual record of U.S. high school sub-4s (5 individuals, 7 times), event prize money increases 34%, official road Mile world championship & world record category announced and more!
By Ryan Lamppa, Bring Back the Mile
This year proved to be another one of noteworthy Mile goodness with more records, all-time list performances, exciting racing and historic achievements from high school to the pros to Masters athletes as the following chronological Best Mile Moments highlights amply shows. Indeed, it was a great year to continue to elevate & celebrate the storied, beloved distance.
FAST FACTS 2022
► Prize money grew from $382,210 in 2021 to $513,000 this year, increasing 34%, as more Mile events returned to the calendar after local COVID-19 restrictions were lifted and inaugural races were also launched such as The Delaware Mile Challenge which awarded $16,500.
► In 2022, a record shattering 63 U.S. men clocked their first sub-4 minute Mile on the track (previous record was 36 in 2021), and for the 17th consecutive year, the first sub-4 U.S. annual number again reached double digits with an average of 27 first-timers AND 45% of the 662 overall total since BBTM's 2012 launch compared to only 7 per year from 1957-2011.
► In addition, annual records of 49 U.S. collegians, 49 U.S. men indoors and 5 U.S. high schoolers entered the sub-4 club, obliterating the previous marks of 25, 22 and 2 (2015 & 2016), respectively.
► In 2022, two U.S. women clocked their first sub-4:30 track Mile, and since 2012, first-time U.S. women to this select club have averaged 5 per year compared to only 1 per year from 1975-2011, or in other words, 61% of the overall total (58 women out of 95) have been run since 2012 (The BBTM Effect). NOTE: like in other running events, super shoes, in recent years, are a factor in the rise of first sub-4 and sub-4:30 performances.
► For the year, Jack Anstey (AUS) and Adam Fogg (GBR) produced the most track sub-4s with 5 each and Jessica Hull (AUS), Taryn Rawlings (USA), Josette Norris (USA), Nikki Hiltz (USA) & Hanna Hermansson (SWE) had the most sub-4:30s with 2 each.
Ryan Schoppe 600th American sub-4 – January 14
At the Arkansas Invitational meet in Fayetteville, Ryan Schoppe, in recording his first sub-4 minute Mile in 3:58.71, became the 600th U.S. man to achieve the coveted milestone since 1957. The Oklahoma State freshman also won the race.
Hoare, Purrier St. Pierre, Willis shine at Wanamaker Mile – January 29
At the WHOOP Wanamaker Mile, the signature event of the 114th Millrose Games, Tokyo Olympians Olli Hoare and defending champion Elle Purrier St. Pierre produced dominant wins with strong final laps, clocking 3:50.83 and 4:19.30, respectively. Hoare, the first Australian to win the event, set personal and indoor national records. Both champions also recorded the fasted Mile time per gender in the month of January.
Women's runner-up Josette Norris of nearby Tenafly, NJ set a personal record of 4:20.81 (#3 U.S. woman all-time indoors), and 2019 race champion & German Olympian Konstanze Klosterhalfen was third in 4:22.59, while Tokyo Olympic 1500m bronze medalist and men's runner-up Josh Kerr established a Scottish indoor record of 3:52.27 and American Colby Alexander finished third in a PR 3:52.84.
Overall, nine men ran sub-4 minutes, including five-time Olympian and two-time Olympic medalist Nick Willis, who finished 9th in 3:59.71, marking a record 20th consecutive year sub-4 for the evergreen 38-year-old.
NOTE: For the day, 34 men went sub-4 minutes in the Mile (all indoor), the second most ever in one day (record is 36 on February 14, 2015, also indoor).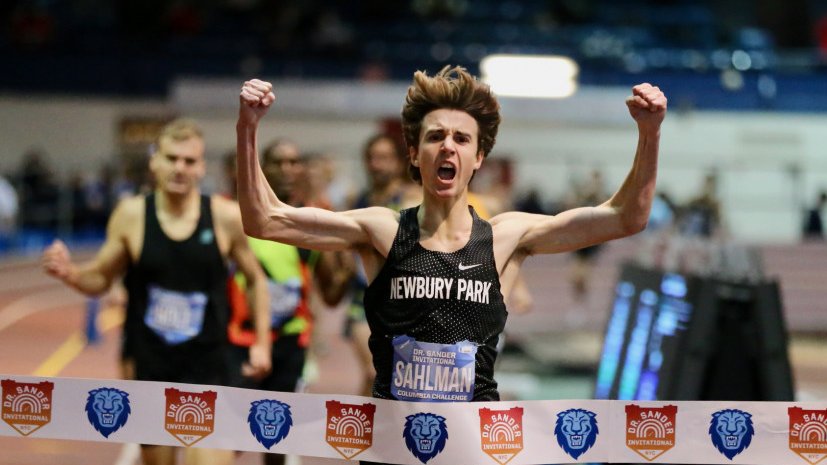 Sahlman, 13th U.S. HSer sub-4, wins race – February 5
At the Dr. Sander Invite Columbia Challenge in New York City, with an impressive sub-28 final 200 meter lap, Colin Sahlman (left) won the Mile Invitational in 3:58.81, becoming the 13th U.S. prep sub-4 as well as setting a meet record and beating the adult field. The senior at Newbury Park (CA) is now the 3rd fastest HSer indoors and he is also the 8th U.S. boy sub-4 since 2015.
Teare beats Hocker in U.S. indoor Mile record attempt – February 11
In their announced American indoor Mile record attempt at the Windy City Invitational in Chicago, Cooper Teare held off Tokyo Olympian and former Oregon teammate Cole Hocker, 3:50.17 vs. 3:50.35, marginally improving on their personal records (still #3 and #4 Americans indoors all-time). Michigan State's Morgan Beadlescomb finished third with a whopping 9-second PR of 3:52.03 (and the fastest U.S. debut sub-4 and fastest indoor first sub-4; previous record 3:53.31 by Steve Holman in 1992).
Kerr crushes European, British & Scottish indoor Mile records – February 27
Josh Kerr, at the Boston University Last Chance meet, won the Mile, setting European, British & Scottish indoor records with his 3:48.87 (#4 all-time and #3 individual indoors). The Tokyo Olympic 1500m bronze medalist ran an impressive negative split: 1:58 (first half) and 1:52 (second half). En route, Kerr also set the British / Scottish 1500m indoor record, breaking the beam in 3:32.86 (previous European records, 3:49.78, by Eamonn Coghlan (IRL), 1983, and 3:34.20 by Peter Elliott (GBR), 1990).
NOTE: Also, in February 2022, a record smashing number of American men clocked their first sub-4 for one month, 29; previous record, 19 in January 2022.
Whittaker, Engelhardt #4, #5 girls indoor high school Mile – March 13
At the New Balance Nationals Indoor in NYC, senior Juliette Whittaker (Catonsville, MD) and freshman Sadie Engelhardt (Ventura, CA) waged a thrilling Mile race with Whittaker taking the title, 4:37.23 vs. 4:37.40, #4 and #5 U.S. prep all-time.
In the boys Mile, the deepest HS-only indoors ever with the top four sub-4:03, Gary Martin (Warminster, PA) beat a top field, clocking a state record of 4:02.34; followed closely by Zane Bergen (Niwot, CO) 4:02.64, James Donahue (Belmont, MA) 4:02.66 & Gavin Sherry (West Hartford, CT) 4:02.69 (state record). In total, all eleven finishers ran under 4:08.
The Mile added to World Athletics Road Running Championships – March 15
World Athletics added the Mile to the competition program for the World Athletics Road Running Championships. The two-day event, which will make its debut in Riga in 2023, will now feature three championship disciplines: Mile, 5K and half-marathon. Also, later in the summer, World Athletics announced the entry standards for the 2023 World Athletics Championships in Budapest that added the road Mile with the track Mile, 3:51 (men) and 4:22 (women) standards, for 1500 meter qualifying.
Frias, Engelhardt fastest 1-2 high school Mile – March 26
At the APU Meet of Champions in Azusa, CA, senior Dalia Frias (Mira Costa, CA) and freshman Sadie Engelhardt (Ventura, CA) waged an epic, thrilling Mile race with Frias prevailing 4:35.06 to 4:36.63 (#4 and #7 U.S. girls prep all-time and #2 and #4 HS-only all-time, respectively).
In the boys race, junior Leo Young (Newbury Park, CA) soloed to a swift 4:00.77, #6 U.S.-only prep all-time; his twin Lex was runner-up in 4:04.68.
Parson runs first sub-4 on Delaware soil – April 9
In a thrilling, down-to-the-wire race at The Delaware Mile Challenge hosted by Tatnall School in Wilmington, native and alum Sam Parsons (GER) beat Casey Comber, 3:58.17 to 3:58.44, to become the first man sub-4 on state soil. At the inaugural event, Molly Sughroue won the women's race in 4:34.56 to shatter the state record (previous record, 4:45.84, Suzanne Girard, 1981).
Engelhardt blazes another fast high school Mile – April 9
Freshman Sadie Engelhardt (Ventura, CA) continued her hot streak as she won the Mile at the prestigious Arcadia Invitational in California, breaking the beam for a meet record of 4:35.16 (moved to #5 U.S. girl prep all-time and #3 HS-only all-time).
Martin nears sub-4 high school Mile – April 13
At the Explorers Invitational in Wyndmoor, PA, senior Gary Martin (Archbishop Wood) won the Mile in a swift 4:00.95 to set a Pennsylvania state record, breaking his indoor 4:02.34 mark (see above) and also becoming the #7 boy all-time U.S. high school-only.
Lipari, Ciattei USA Road Mile Champions at Grand Blue Mile – April 26
Emily Lipari and Vince Ciattei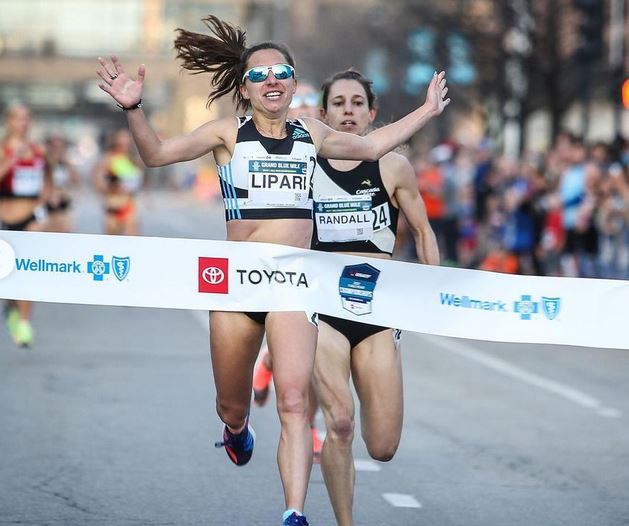 earned USATF Road Mile titles at the Grand Blue Mile in Des Moines, Iowa. In thrilling races, Lipari (right) took home her third national road Mile crown in 4:33, holding off Jenn Randall, while Ciattei, 27, won his first in 4:04, followed closely by Paul Ryan (4:04) and eight others within 3 seconds.
Martin smashes Penn Relays HS Mile record – April 29
In another dominant performance, Pennsylvania's talented prepster Gary Martin won the Penn Relays High School Mile, clocking 4:01.04 to shatter the meet record (previous record, 4:04.47, Sean McGorty, 2013).
Milliman, 95, sets Mile world record – May 7
At the Oregon Track Club's Masters Hayward Classic in Eugene, Colleen Milliman, 95-years-young, set a F95-99 age group Mile world record, running 13:46.13. Brava, Colleen!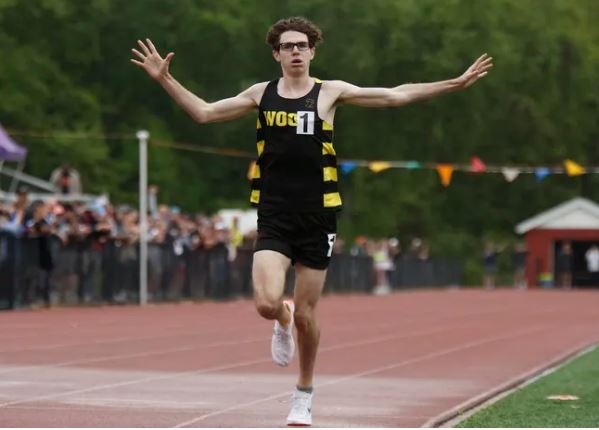 Martin #14 U.S. prep sub-4 – May 14
After a couple of near misses, Gary Martin (left) became the 14th U.S. prep sub-4 overall and 9th since the launch of BBTM in 2012, clocking 3:57.98 at the Philadelphia Catholic League Championship. His mark is also the fastest high school-only Mile, bettering legend Jim Ryun's 3:58.3 at the 1965 Kansas State Meet.
Ingebrigtsen defends Bowerman Mile – May 28
Without challenge, reigning Olympic 1500m champion Jakob Ingebrigtsen of Norway defended his Bowerman Mile title, clocking a swift 3:49.76, followed by 13 men also under sub-4, including California high schooler Colin Sahlman who finished 13th in 3:56.24, his second sub-4 and now #3 U.S. prep all-time.
Two U.S. high schoolers sub-4 in same race, first time! – June 2
At the HOKA Festival of Miles in St. Louis, two high schoolers – Gary Martin and Connor Burns – stole the show with top placements and impressive sub-4 Mile performances. Martin, who 19 days earlier went sub-4 at a high school meet, bravely pushed sub-4 pace before being passed by three elite men in the Open race won by Paul Ryan in 3:55.95. Martin finished fourth in a personal record of 3:57.89 followed by Missouri native Burns (Southern Boone HS) who broke the beam in 3:58.83, the 15th U.S. prep sub-4, 10th since BBTM's 2012 launch and 7th fastest U.S. HSer all-time. Burns is the second U.S. sub-4 junior class, besting legend Jim Ryun's 3:59.0, the first HS junior in 1964. In addition, the dynamic duo are also the first high schoolers to go sub-4 in the same race.
Harrison 4th U.S. High School sub-4 in 2022! – June 3
At the Golden South Series meet in Tarpon Springs, Florida, Rheinhardt Harrison (Nease HS) fulfilled his promise by becoming the 16th U.S. prep, 11th since BBTM launch, to record a sub-4 minute Mile (3:59.33) as well as the 3rd fastest overall in a high school-only race, behind only Gary Martin (3:57.98, 2022) and Jim Ryun (3:58.3, 1964).
Albania in the Sub-4 house! – June 11
At the Trofeo Donkenyarun meet in Milan, David Nikolli finished 4th in the Mile, clocking the first sub-4 for Albania (74th country overall) in 3:57.56.
Birnbaum joins the 2022 HS Sub-4 Mile spree! – June 15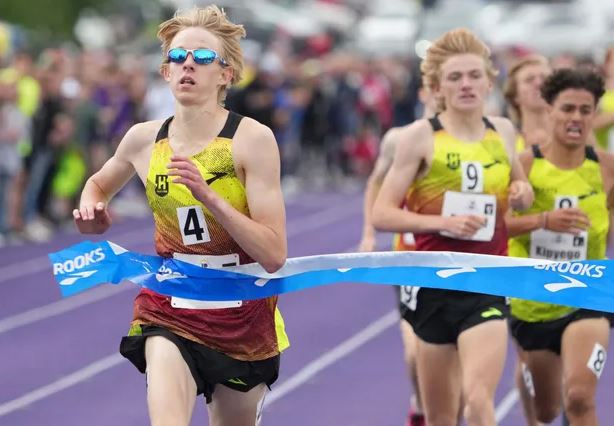 At the Brooks PR Invitational in Seattle, Simeon Birnbaum (Stevens High School, SD) won the Mile in 3:59.51, the 5th U.S. prep (annual record) and second junior sub-4 in 2022, 17th overall and 12th since BBTM 2012 launch! Birnbaum (right) impressively ran his last 400 meters in 56.2 seconds to shatter his personal record by more than 8 seconds. In the fastest high school-only Mile ever, the top 10 went sub-4:07 and the top 5 sub-4:02. Fellow HS sub-4 member Gary Martin paced the first 800 meters (2 minutes).
In the girls Mile, senior Juliette Whittaker defended her title, edging frosh phenom Sadie Engelhardt, 4:36.24 to 4:36.50, the former, #4 all-time high school-only, and a record 7 high school girls went sub-4:40 in the same race.
Ingebrigtsen's Dream Mile – June 16
Superstar Jakob Ingebrigtsen became the first Norwegian to win the fabled Bislett Games Dream Mile in a world leading 3:46.46, the fastest Mile since 2007 (Alan Webb's U.S. record 3:46.91) and now the 6th fastest man all-time as well as setting a national record. Olli Hoare was runner-up with an Australian record of 3:47.48. Overall, ten men went sub-4.
Prakel produces fastest Mile on Washington soil, Hull's Aussie record – July 2
Sam Prakel defended his Downtown Yakima Mile title in 3:51, the fastest Mile recorded on Washington soil, to take home $10,000 ($5000 win and $5000 time bonus). In a thrilling women's race, Ella Donaghu edged Katie Camarena, both timed in 4:32.
On the same day down in Portland, Jessica Hull set an Australian Mile record of 4:19.89 as a prep for the World Championships at Hayward Field (her collegiate track) in Eugene.
Fast Mile performances, led by Rawlings, at Sunset Tour #2 – July 9
In Los Angeles at the Sunset Tour #2, Taryn Rawlings blazed a 4:24.95 to win the Under Armour Mile, clocking a personal record. Fellow Americans Allie Wilson and Elly Henes finished second and third, 4:26.04 and 4:28.12, respectively, to garner their first sub-4:30 Mile times (#94 and #95 U.S. women to do so). Drew Hunter won the men's Mile in a personal record of 3:54.80.
Gregorek, Norris blaze fastest Miles on Ohio soil – July 23
At the Guardian Mile in Cleveland, with a tailwind on the point-to-point course, Johnny Gregorek and Josette Norris flew over the Hope Memorial Bridge for the wins in 3:46.67 (3:47 official) and 4:19.66 (4:20), respectively. Gregorek defended his title, breaking his Ohio state mark (3:49.07), while Norris also claimed the fastest women's state mark (previous best, 4:21.58, Grace Barnett, 2021). Overall, eleven men ran sub-4 plus three sub-3:50: also, Sam Prakel and Kasey Knevelbaard and four women went sub-4:22 (also Taryn Rawlings, Nikki Hiltz and Emily Lipari).
Earlier in the day in Charlevoix, Michigan, on the Ryan Shay Memorial Mile downhill, point-to-point course, Canadian Ben Flanagan and American Abby Kohut-Jackson won their respective races in 3:53.89 (3:54) and 4:26.52 (4:27); Flanagan set a course record (previous record, 3:55.9, Jeff See, 2010).
The night before in Pittsburgh, at the Fleet Feet Liberty Mile, Vince Ciattei defended his title in 4:04, holding off two-time race champion Ben Blankenship and Kasey Knevelbaard. In the women's race, Nikki Hiltz edged two-time race champion Emily Lipari, both timed in 4:28 (#2 and #3 women all-time at the event).
Hiltz, Nuguse set North Carolina state Mile records – August 5
At Sir Walter Miler in Raleigh, Nikki Hiltz and Yared Nuguse closed strongly over the final 100 meters to set North Carolina, meet and personal records, clocking 4:21.89 and 3:53.34, respectively. Each race champion took home $6500 including record bonus money. Runners-up Eleanor Fulton and Festus Lagat also set personal records (4:23.65 and 3:54.02), and overall, 12 men went sub-4.
Hiltz hot streak continues – August 20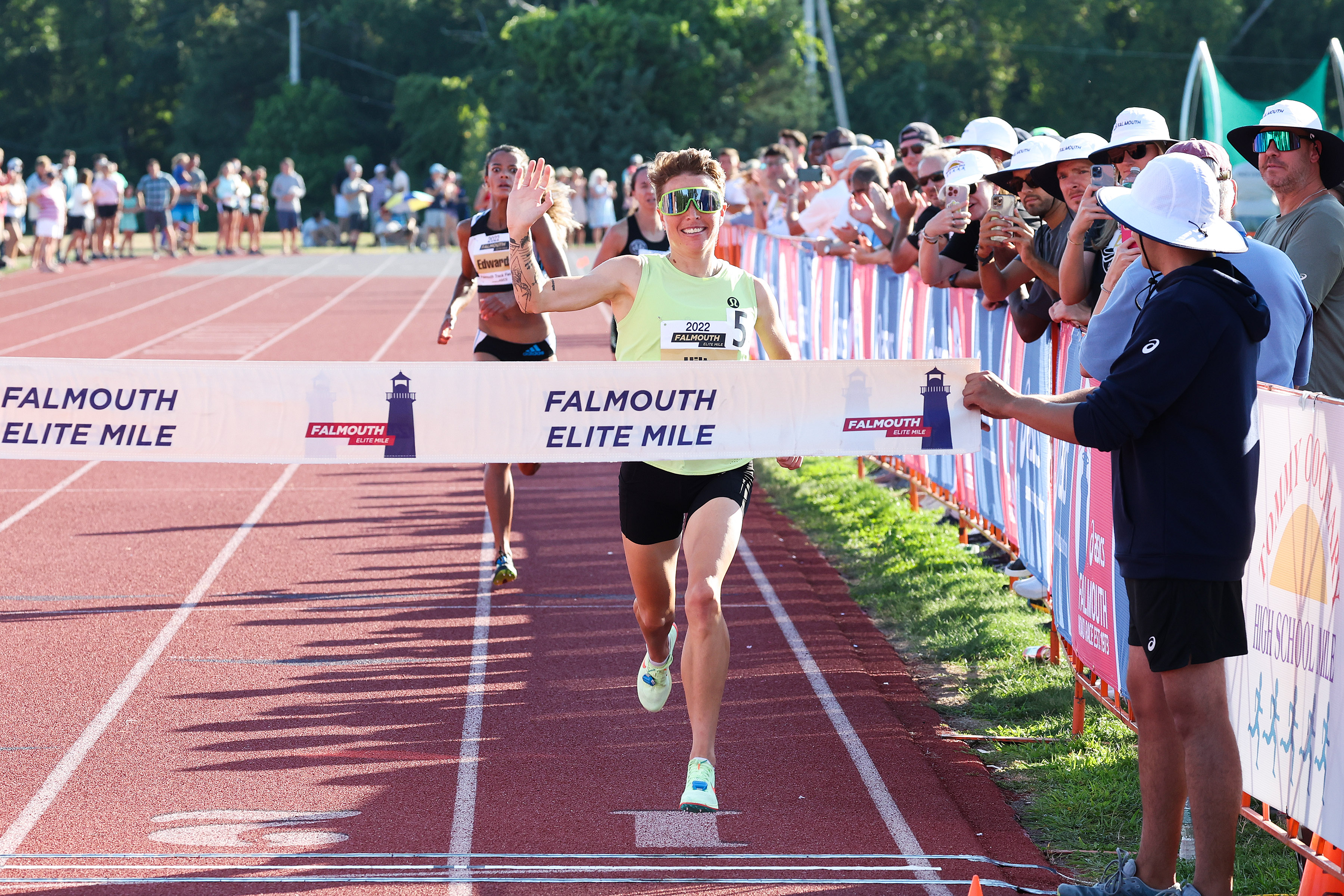 At the Falmouth Elite Mile, Nikki Hiltz (left) blazed another sub-4:30 Mile, her fourth in a month, beating Kaela Edwards, 4:28.93 to 4:30.55. For the men, Paul Ryan dropped a 55-second final lap to break the tape in 3:55.91 with Australian Jye Edwards runner-up in 3:56.36. Each race champion earned $5000 for their victories plus an additional $1000 bonus for breaking 4:30 and 3:56, respectively.
Ryan rips fastest New Jersey outdoor Mile – September 1
Paul Ryan won The Monmouth Mile in Middletown, setting a PR as well as a New Jersey soil outdoor record in 3:52.41 (previous record was 3:53.64 by Leonard Mucheru in 2001). Fellow summer of 2022 Milers Vincent Ciattei and Eric Holt finished second and third, 3:54.07, 3:54.09, both PRed respectively.
Record-tying 14 women sub-4:30 at track meet – September 11
At the Hanzekovic Memorial in Zagreb, Croatia, Linden Hall of Australia set a meet record of 4:21.10, leading 13 other women to sub-4:30 times to tie for the most ever in the same women's race on the track (also Müller Anniversary Games 2017).
Wightman, Muir 5th Avenue Mile champions – September 11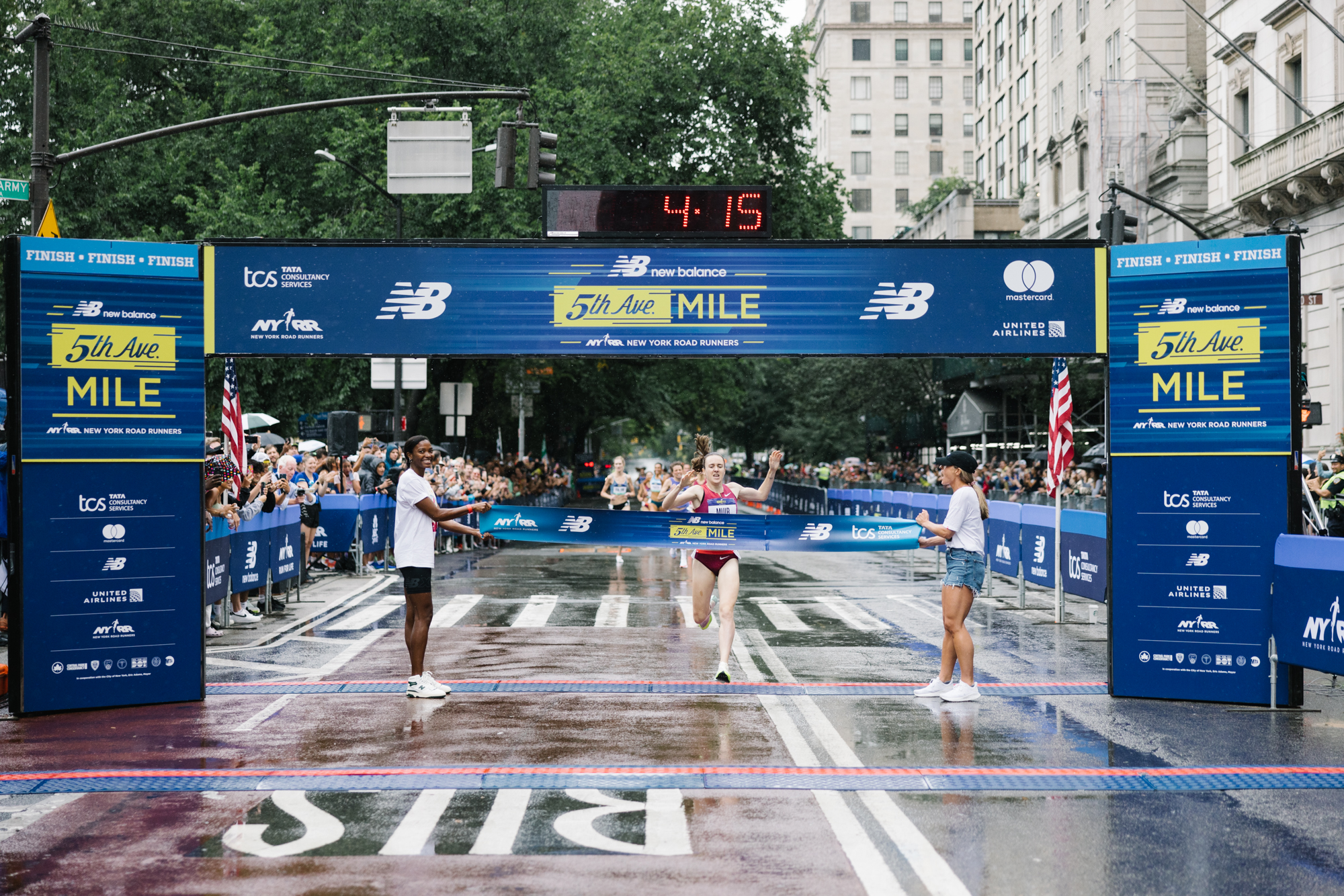 At the New Balance 5th Avenue Mile, under rainy conditions, world champion Jake Wightman defended his title, third overall, with a masterful 3:49.6, while fellow Briton & Scot Laura Muir (right) dominated the women's race, setting a course record of 4:14.8 (previous record, 4:16.1, Jenny Simpson, 2019).
Overall, a record number of women went sub-4:30 and sub-4:20 in the same race (road or track), 18 and 8, respectively; previous sub-4:30 mark = 17 at 2016 & 2018 5th Avenue Mile and tie sub-4:20 mark = 8 at 2019 Brave Like Gabe Mile (track). Also, a record 21 men went sub-4 in the same road or track race (previous mark = 19 at 2017 5th Avenue Mile).
Fast Forest celebrates first sub-4 and sub-4:30 U.S. Milers – November 15
Rio Olympian Ben Blankenship and his team launched the non-profit Endless Mileage Project which includes the Fast Forest in Springfield, Oregon that recognizes every first U.S. sub-4 and 4:30 Miler with a planted & labeled tree.
Road Mile to become official world record event in 2023 – November 30
Starting January 1, 2023, World Athletics will introduce an official world record for the road Mile. Prior to September 1, 2023, official recognition of a world record will require a performance of at least 3:50.00 (men) / 4:19.00 (women). If the listed standards are not met by September 1, the fastest recorded, record-eligible performances will be recognized as the world records.
The Mile returns to Olympic 1500m qualifying – December 16
For the first time since 1972, in Paris 2024, athletes can also qualify for the Olympic 1500 meters with Mile times: 3:50.40 = men and 4:20.90 = women.
MEMORIAM: On February 24, Olympic medalist, Mile legend, sportsman, Australian icon John Landy passed away at age 91 in his homeland, and on December 3, Tony Waldrop, who produced a magical year in 1974 that included setting the indoor Mile world record (3:55.0), clocking the first sub-4 minute Mile at the Wanamaker Mile (3:59.7) and running the still standing Penn Relays Mile record of 3:53.2, died after a lengthy illness.