The New Herb Elliott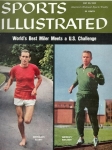 May 30, 1960
Australia's superb Miler may still be the best in the world, but he has lost his fierce dedication. Now he faces the challenge of Oregon's Dyrol Burleson, who is still hungry
By Tex Maule, Sports Illustrated
Two years ago a grim, young, hawk-nosed Australian named Herb Elliott was the talk of the track world, and a good part of the world not ordinarily interested in track and field. Absolutely dedicated to running, Elliott, under the almost fanatic tutelage of stern old Percy Cerutty, punished himself fiercely in his efforts to become the best Mile runner in the world. He spent long weekends at Cerutty's training camp at Portsea, near Melbourne, sprinting up huge sand dunes to develop physical and mental resistance to fatigue (SI, Nov. 10, 1958). He ate rolled oats, raw cabbage, brown bread and cheese. He read the books Cerutty recommended and assimilated the older man's Spartan philosophy.
And he became the best Mile runner in the world. In four stunning months in 1958, on a "world tour" that included Honolulu, the U.S., England, Ireland, Sweden and Norway, he won 19 races, ran seven sub-4-minute Miles, beat every top Miler in competition and set eye-popping new world records for the Mile and for 1500 meters.
Now a new and different Elliott is on tour, a brief trip this time, to California, where he has a schedule of three races at 1500 meters and a Mile. Only one of these is very important: the Mile he will run this week at the Modesto Relays against a field that includes Dyrol Burleson, the youngster from the University of Oregon who is the best Miler America has ever produced and current record holder (3:58.6).
This race not only is important—it could be the most dramatic Mile run on the North American continent since Roger Bannister whipped John Landy in their unforgettable meeting at Vancouver in 1954. For now Dyrol Burleson is the hungry young man dedicated to his sport—and the big news about Elliott is that he has turned into a relaxed, pleasant sort of fellow who is more interested in his wife, his 3-month-old son and his career with the Shell Company in Australia than he is in track.
Last week Dyrol Burleson trained hard and long despite torrential rains that drenched Oregon, and he won the Mile in a conference meet on Saturday. Burleson's coach, Bill Bowerman, sounding like Cerutty, said, "The rains didn't bother Burleson. There's no such thing as bad weather, just soft people."
Continue reading at: sportsillustrated.com