USATF 1 Mile Road Championship Fields Announced for Grand Blue Mile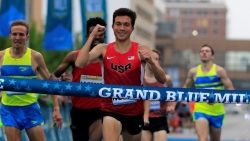 April 19, 2017
Event also kicks off the Bring Back the Mile Grand Prix Tour 2017 in Des Moines; $25,000 national championship purse with $5000 for each national champion
DES MOINES - Grand Blue Mile race officials have announced the elite fields for the 2017 USA 1 Mile Road Championships set for Tuesday, April 25 in downtown Des Moines. A world class group of elite runners, including men's defending champion Chad Noelle, will headline the event, along with more than 2,500 participants who will compete among the recreational and amateur competitive divisions.
This year's race, also the Bring Back the Mile Grand Prix Tour 2017 opener, features a top prize of $5000 for each national champion with the potential to earn an additional $2500 for setting a course record. Overall, $30,000 in prize money will be contested across the men's and women's event divisions.
Vying for the national titles and a share of the prize purse are Olympic medalists and World Championship finalists, including headliners:
Men's Division:
Clayton Murphy
o 2016 Olympic Games bronze medalist (800m)
o 2015 Pan American Games gold medalist (800m)
o Mile personal record: 3:54.31 (indoor)

Leo Manzano
o 2012 Olympic Silver Medalist (1500m)
o 9-time NCAA All-American (University of Texas)
o Mile personal record: 3:50.64

Chad Noelle
o 2016 Grand Blue Mile Invitational Champion (4:12.11)
o NCAA 1500m Champion (Oklahoma State University)
o Mile personal record: 3:57.78
Women's Division:
Shannon Rowbury
o American record holder in the 1500m and 5000m
o 4th in 2016 Olympic Games (1500m)
o 2016 World Indoor bronze medalist (3000m)

Katie Mackey
o 3-time Falmouth Mile Champion (2013, 2014, 2016)
o 7-time All-American (University of Washington)
o Mile personal best: 4:23.6 (road)

Amanda Eccleston
o 4th in 2016 U.S. Olympic Trials (1500m)
o 2-time All-American (University of Michigan)
o Mile personal best 4:20.7 (road)
"We are honored to host the USATF 1 Mile Championships and these incredible athletes at the Grand Blue Mile," said Blake Boldon, Drake Relays Director. "Both fields feature some of America's best Milers, and with the additional incentive to set a new course record, this is a can't miss event."

START LIST
MEN
Thomas Awad
Andy Bayer
Hillary Bor
Pat Casey
Graham Crawford
Dey Dey
Trevor Dunbar
Garrett Heath
Daniel Herrera
Brandon Lasater
Brian Llamas
Leo Manzano
Riley Masters, defending Bring Back the Mile Grand Prix champion
Clayton Murphy
Chad Noelle
Patrick Peterson
Andy Phillips
Cristian Soratos
Josef Tessema
Lex Williams
Drew Windle
Izaic Yorks
WOMEN
Maddie Alm
Jamie Cheever
Margaret Connelly
Brette Correy
Amanda Eccleston
Hannah Fields
Eleanor Fulton
Gabriele Grunewald
Katie Mackey
Ashley Maton
Megan Malasarte
Dana Mecke
Shannon Osika
Meghan Peyton
Shannon Rowbury
Tori Tsolis
Alexina Wilson
BBTM Grand Prix Tour 2017 Pick-the-Winner Contest!
Visit www.GrandBlueMile.com to register for the race, view the course map, find training tips and get spectator information.