Which NCAA Stars Will Go Sub-4 for the First Time in 2019?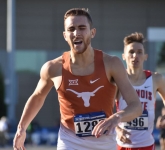 December 13, 2018
A record 29 Americans went sub-4 for the first time in 2018, sixteen of them were collegians
By Lincoln Shryack, FloTrack
The sub-4:00 Mile chase is one of the most compelling facets of the NCAA indoor season, and in 2019 there are plenty of collegiate contenders ready to punch their membership cards for the first time.
Here are 20 NCAA stars who could dip under the hallowed mark as newcomers to the coveted Sub-4 Club this season:
Alex Rogers, SR, Texas
Mile PR: 4:00.00 (2018 Husky Classic)
Rogers came as heartbreakingly close to cracking the barrier as possible last season, but his 3:40 1500m PR shows he's definitely ready to run well under 4:00 in 2019.
Brodey Hasty, FR, Northern Arizona
Mile PR: 4:00.05 (2018 Millrose Games)
Hasty narrowly missed sub-4:00 as a high school senior last year, so you know he's capable. The only factor this year that might stop him is opportunity: the Lumberjacks are scheduled to race at just one sea-level indoor meet ahead of NCAAs.
Kasey Knevelbaard, JR, Southern Utah
Mile PR: 4:00.15 (2018 UW Invitational)
Knevelbaard has run an altitude-converted 3:55 (from a 4:04 raw), and even if you don't completely buy the huge flat-track / high-altitude conversion numbers, that's mighty impressive.
Steven Fahy, SR, Stanford
Mile PR: 4:00.60 (2018 UW Invitational)
Fahy missed all but one cross country meet this fall due to injury, but he's a star when healthy. The lone Mile race of his college career is his 4:00.60 PR.
For the rest of the list, continue reading at: flotrack.org
WOMEN: Which NCAA Stars Will Go Sub-4:30 for the First Time in 2019?