World Championships Medalist Matthew Centrowitz and Teenage Track Sensation Mary Cain to headline NY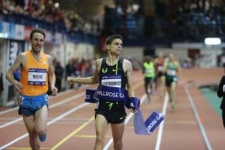 January 29, 2014
Three-time Olympian Nick Willis and USA champion Morgan Uceny also among top competitors
NEW YORK — Moscow World Championships silver medalist Matthew Centrowitz and teenage track sensation Mary Cain will headline the NYRR Wanamaker Mile fields at the NYRR Millrose Games on Saturday, February 15, and three-time Olympian Nick Willis and three-time USA champion Morgan Uceny will be among their top competitors in what has traditionally been the most anticipated event of the Millrose Games, it was announced today by New York Road Runners and the Armory Foundation.
Cain, who recently set an American Junior indoor record for 1000m, was originally announced for the Road to Rio 800 meter event at the Millrose Games, but has decided to change events to better fit her overall indoor program.
The men's field also includes 2013 NCAA indoor Mile and 3000-meter champion, Lawi Lalang; 2012 NCAA indoor Mile champion, Chris O'Hare; and Alan Webb, the American Open and high school record holder in the Mile, who will be running the Wanamaker Mile as his indoor track retirement race. The Wanamaker Mile men's record is 3:51.21, set by Lopez Lomong of the USA last year.
The women's field also includes two-time USA steeplechase champion, Emma Coburn; the fourth-fastest American at 1500 meters in 2013, Gabe Grunewald; the 1500 meter bronze medalist at the 2013 USA Outdoor Championships, Cory McGee; Villanova University star, Emily Lipari; and Alexa Efraimson, the youngest Wanamaker Mile entrant at age 16 and the winner of the girls' race at the 2013 Nike Cross Nationals. The Millrose Games women's record for the Mile is 4:21.45, run by Romania's Doina Melinte in 1988.
The NYRR Millrose Games will be presented live on NBCSN from 3:00 to 5:00pm ET. Fans will have the chance to watch the famed Wanamaker Miles, a world-class women's 800-meter race, and much more.
Centrowitz: "I'm excited to return to the Millrose Games on February 15. It will be my third time to run the Wanamaker Mile. I won in 2012 and took second last year. I hope to be back on top in 2014."
Cain: "I was originally going to run the 800m but have decided to once again run the iconic Mile race. Last year I came in second, and would love to see if I can finish one place higher! I believe this race will better prepare me for the following week's USA Indoor Championships. Being a New Yorker, I always have loved competing in the Millrose Games, and am excited to be a part of this fun meet once again!"
Continue reading at: www.millrosegames.runnerspace.com