40 Years of Prefontaine: Legend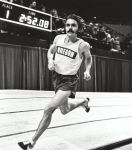 June 01, 2015
"Pre was a rebel from a working-class background, a guy full of cockiness and guts," said Nike co-founder Phil Knight. "Pre's spirit is the cornerstone of this company's soul."
From Nike.com
In 1973, two years after the Nike brand was born and the first Swoosh adorned shoes, the nascent footwear company signed its first star runner. The phenomenal Oregon native held multiple American distance records, competed on track & field's greatest stage at the 1972 Munich Olympics and appeared on the cover of Sports Illustrated as "America's Distance Prodigy."
The prodigy was Steve Prefontaine, America's best-known track & field athlete at age 22. He possessed warrior determination and ran each race as if his life depended on it. His competitive fire, gutsy race tactics and inherent charisma charmed crowds and inspired up-and-coming runners to stick with the sport and give it their all
On track for greatness
In 1969, competing for Marshfield High School in Coos Bay, Ore., Pretontaine set his first national record, clocking 8:41.5 in the 2-mile. He won back-to-back state cross country championships in 1968-69, and went undefeated in cross country and track his junior and senior years. Heavily recruited by top running schools during his senior year, Prefontaine was swayed by a handwritten note from llegendary University of Oregon head coach Bill Bowerman. "It said if I came to Oregon, he'd make me into the best distance runner ever," Prefontaine recalled. "That was all I needed to hear."
While training under Bowerman and assistant coach Bill Dellinger at Oregon beginning in 1969, Prefontaine won seven NCAA titles (three in cross country, 1970-71, '73; and four in the 3-mile distance in track, 1970-73). In Pac-8 Conference track competition, he won 3-mile titles each of his four years at Oregon, plus the Mile in 1971. At home at Hayward Field during his collegiate career and beyond, he notched a remarkable 35 out of 38 victories between 1970 and 1975.
Prefontaine's ascendance came at a time when running was far from mainstream. Drivers unwilling to share the road routinely yelled and threw garbage at runners as they sped past. Prefontaine helped changed that attitude from annoyance to admiration. On the strength of his indisputable achievement and winning personality, he was the first person to make running cool. His association with Nike helped establish the Swoosh as a trusted running brand and transform the company from national shoe distributor to worldwide brand.
As a competitor at the University of Oregon, Prefontaine had considerable exposure to Blue Ribbon Sports and Nike footwear (at the time, products were branded Nike but the company name was still the original Blue Ribbon Sports or BRS). In the summer of 1973, Nike co-founders Phil Knight and Bill Bowerman extended a $5000 yearly stipend to help offset Prefontaine's training expenses and to relieve him of occasional bartending shifts at the popular Paddock tavern.
Continue reading at: news.nike.com