Drake Relays: Webster City's Simpson Breaks Stadium Record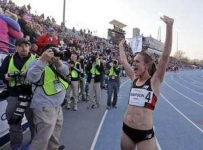 April 26, 2013
2011 world champion clocks 4:03.35 for 1500 meter meet record; Mary Cain also sets high school record.
By Andy Hamilton, Des Moines Register
DES MOINES, Iowa – One thought raced through Jenny Simpson's mind as she approached the finish line faster than any woman ever has during a 1500 meter run inside Drake Stadium.
"The first thing I thought was I get to have my name on the stadium," the 2012 Olympian said. "That's really, really special to me, and that's really, honestly what I was going for this year."
Simpson had won the Drake Relays in each of the previous two years, but the Webster City native had never approached the finish line within striking distance of the record set 13 years ago by Suzy Favor Hamilton when she won in 4:05.13 — until Friday.
"I thought this is the season I'm really ready for it," Simpson said. "To get the record was really important to me."
Simpson pumped her fists when she crossed in 4:03.35 to register the fastest American time of the year and claim the $25,000 prize for winning the London Games Rematch event.
Continue reading at: desmoinesregister.com