Genzebe Dibaba sets African 1500m record of 3:54.11 in Barcelona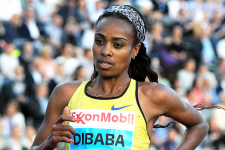 July 08, 2015
Genzebe's choice of events at the IAAF World Championships in Beijing opens or closes the door to a possible gold for women in her event, as she would be favored in either the 1500 or 5000.
By Phil Minshull, IAAF
Genzebe Dibaba set an African 1500m record of 3:54.11 in Barcelona's famous Montjuic Stadium, which played host to the 1992 Olympic Games, on Wednesday evening (8).
Dibaba arrived in the Catalan city in the wake of her 5000m personal best of 14:15.41 when winning at the IAAF Diamond League meeting in Paris on Saturday looking for a fast time but also not sure about who much her efforts in the French capital had taken out of her.
Not much it seems.
She followed the Cuban pacemaker Yuneisy Santiusty through to 700 metres but with two laps to go she took off on her own and turned the race into a time trial.
Continue reading at: www.iaaf.org