Mary Cain Biggest Name for U.S. Indoor Championships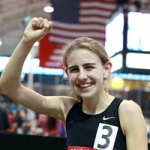 March 01, 2013
Meet runs Friday through Sunday in Albuquerque.
By Peter Gambaccini, Runner's World
The USA Indoor Track & Field Championships begin in Albuquerque today and extend through Sunday. In the middle-distance and distance events—the men's and women's 800, Mile, and 3000 meters—there are two main topics of interest.
One involves Mary Cain. The New York State high school junior who's been U.S. indoor track's breakout headliner all winter long could emerge with a national title, an "adult" one, in the Mile or the 800. It wouldn't be too much to label her the favorite in the Mile, based on her match-ups with the women in the field in Albuquerque and her best time, 4:28.25. In fact, if Cain, age 16, were allowed to run the Mile at the NCAA Indoor Championships next weekend in Arkansas, she'd be the consensus pick to win that, too.
Cain is entered in the Mile and the 800 this weekend, but there are about 15 minutes between the conclusion of Sunday's Mile final and the start of the 800. Logic (and certainly tradition) might argue against Cain's doing both. But we've heard reports about coach Alberto Salazar having her do an arduous speed session immediately after her 9:38.68 high school two-Mile record in Boston in January, so really… what's a tough 800 right after a Mile?
Contiue reading at: runnersworld.com