Meet Eldon Warner, the college runner who also aces opera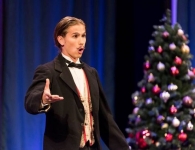 November 28, 2018
Like singing an aria: "When I'm racing a Mile and I feel like I'm pushing the pace uncomfortably from the gun, it's not a good sign. I've run my fastest races when I'm relaxed and loose and not thinking about going fast."
By Hailey Middlebrook, Runner's World
Growing up just a few minutes across the Missouri River from Omaha, Nebraska, Eldon Warner was drawn to music at a young age. His grandmother taught classical music at an elementary school, while his father was passionate about rock, often jamming out to Led Zeppelin records at their home in Council Bluffs, Iowa.
"I was saturated in music as a kid," Warner recently told Runner's World. "I fell in love with singing and playing music pretty early on, when I was in elementary school. By the time I started high school, I'd decided I wanted to be a musician when I grew up."
What he didn't want to be was a runner. At least, not in ninth grade.
"I absolutely hated running my freshman year," said Warner. "I raced a lot of miles in middle school track, and I'd had enough of it. I figured I'd just focus on choir and music in high school. But then I missed having a sport, so I tried out for the rugby team."
But the lithe, 110-pound teenager wasn't suited for the rough-and-tumble contact sport. "I was terrible," Warner said.
Meanwhile, Thomas Jefferson High School's cross country coach kept coaxing him back to distance running. Warner finally relented in time for track season, but he still wasn't "hungry" for competition, he said.
That came later, in his sophomore year of high school. He was running the anchor leg of a 4x800 meter relay, and his team was neck-and-neck with their rivals. After receiving the baton, he slammed down a 2:01, shaving five seconds off his 800 meter personal record.
"I became enamored with all of it, right then," he said. "I wanted to get faster and break 2 minutes."
Continue reading at: runnersworld.com