Meet The World's Best Runner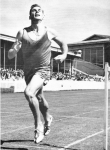 February 12, 1962
In the southern reaches of faraway New Zealand young Peter Snell broke the world half-mile and 800 meter records last Saturday just a week after he had run history's fastest Mile
By Leslie Hobbs, Sports Illustrated
In the stretch of the Olympic 800 meter finals in Rome last year the highly favored Belgian, Roger Moens, looked quickly to his right to see if there was any opposition in sight as he headed for the finish line. In that brief instant a stocky bull of a runner, New Zealand's Peter Snell, audaciously burst by on Moens' left side and won a gold medal by a step. "He'll never get anywhere with his build," said the irritated Moens of the winner. "He is too heavy."
Two weeks ago the still little-known and still burly Peter Snell caught the whole track world looking the wrong way. In the improbable sounding locale of Wanganui, New Zealand, without advance fuss or fanfare, he ran a Mile in 3:54.4, breaking Herb Elliott's record by a tenth of a second.
That ended Snell's anonymity. By last Saturday, as he was ready to climax the finest fortnight a track man ever had, no one was going to be surprised by Snell no matter what he did—or weighed. He had announced he was out to break the world half-mile mark, and as 15,000 confident New Zealanders shouted him on around the firm grass track at Lancaster Park, Christchurch, that is exactly what he did. He managed it casually, effortlessly and powerfully, also setting a world record for the slightly shorter 800 meter distance en route. That made it three world records in eight days. Suddenly at 23, self-possessed, shy and likable Peter Snell, who has the legs of a shotputter, hips so small he must have his shorts specially tailored to keep them up, a penchant for eating honey by the 60-pound tin and a nonstop attitude toward life, was literally changing the shape of foot racing's future.
At 5 feet 10½ and 171 pounds, Snell is neither built like nor competes like any famous Miler of modern times. He is 20 pounds heavier than any of the others and shorter than most. He has huge and efficient leg muscles—look at them and you think of Joe Louis or Parry O'Brien—and to see him run is to get an impression of rippling motion and surging strength, rather than flowing speed. He has a limited amount of running savvy and a minimum of finesse. He simply comes on toward the end of a race to brutally overpower that combination of time and distance that is the measure of world records. To make an automotive analogy, the usual runner is like a Jaguar. Snell is a Sherman tank—with overdrive.
After a race, instead of collapsing in the traditional heap of the athlete who has given his last ounce of energy and will, Snell is hardly panting. Following his Mile record in Wanganui the announcer who interviewed him was considerably more winded from the excitement than Snell was from the running. He seems to have incalculable reserves of power and stamina and enjoys developing them. Thus, the day after his record Mile, Snell flew to Auckland, was driven to nearby Papakura, where he changed into track shorts and ran the last 15 miles to his parents' home in Pukekohe to tell them about his race. It is this combination of strength, youth and zeal that now leads track experts to predict that Snell may eventually break every record from 800 to 5,000 meters.
Continue reading at: sportsillustrated.com