Minnesotans Heath, Kampf Sweep USATF Championships at Medtronic TC 1 Mile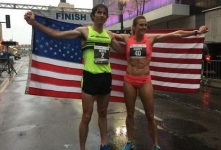 May 14, 2015
Rainy conditions at Bring Back the Mile Grand Prix Tour 2015 second stop; $25,000 prize money awarded
From Twin Cities In Motion
MINNEAPOLIS – Minnesota natives Garrett Heath and Heather Kampf won the 10th running of the Medtronic TC 1 Mile earning USATF 1 Mile Road titles on a rain-soaked Hennepin Avenue.
Heath, 29, a Winona native who lives in Seattle, clocked 4:08.3 to earn his second USA 1 Mile Road title (also 2013) and improve on his runner-up finish at the 2013 Medtronic TC 1 Mile. The Stanford University graduate outran Jeff See of Greenville, S.C, runner-up in 4:09.4, and Trevor Dunbar of Eugene, Ore., third at 4:10.1
Kampf, 28, Rosemount native who starred at the University of Minnesota, held off the women's field, running 4:45.4. Kampf was chased to the line by Rebecca Addison of Spring Lake, Mich., second in 4:46.5 and her training partner Amanda Eccleston of Adrian, Mich., third in 4:48.3. Kampf captured her third USA 1 Mile Road crown and became the first woman to win consecutive national road Mile titles and also earned her second Medtronic TC 1 Mile title.
Nearly 2,500 runners registered for the event which raced through downtown Minneapolis, finishing in the heart of the Hennepin Avenue Theater District.
While Heath appeared to win comfortably, he didn't think it had the race in hand until crossing the final intersection. "I kind of looked around a little bit," he admitted. "You want to know how much more you've got to hurt."
Kampf's win came after a challenge. "I think it was Rebecca Addison who made a move," the Team USA Minnesota athlete said. "I responded to that. I was waiting – kind of peripheral vision – to see if she was going to come with my response. You have to run through the line every time because you never know who might be coming for a really late face-punch."
Heath and Kampf took home $5000 each for their wins. The race was also the second stop on the 2015 Bring Back the Mile Tour, a nationwide Grand Prix with more than $80,000 in total prize money and a $7500 grand prix purse.
10th Medtronic TC 1 Mile: USA Championships
Bring Back the Mile Grand Prix Tour
Minneapolis, MN, Thursday, May 14, 2015
MEN
1) Garrett Heath (MN), 4:09, $5000
2) Jeff See (SC), 4:10, $3000
3) Trevor Dunbar (OR), 4:11, $1800
4) Aaron Braun (CO), 4:12, $1000
5) Frezer Legesse (OK), 4:12, $600
6) Craig Miller (CO), 4:12, $400
7) Jonathan Peterson (MN), 4:12, $250
8) Brandon Hudgins (NC), 4:13, $200
9) Robert Nierman (IN), 4:15, $150
10) Benjamin Sathre (MN), 4:18, $100
WOMEN
1) Heather Kampf (MN), 4:46, $5000
2) Rebecca Addison (MI), 4:47, $3000
3) Amanda Eccleston (MI), 4:49, $1800
4) Kristen Findley (TX), 4:56, $1000
5) Rebecca Friday (TX), 5:01, $600
6) Christy Cazzola (WI), 5:01, $400
7) Meghan Peyton (MN), 5:03, $250
8) Gina Valgoi (MN), 5:03, $200
9) Melissa Agnew (MN), 5:05, $150
10) Carmen Graves (VA), 5:08, $100
Complete results at: tcmevents.org