Plymouth 2 London ... Uceny sets sights on gold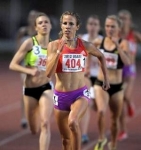 July 27, 2012
By Rick Schutt, WSBT-TV
She is the pride of Plymouth. In just a few days Morgan Uceny will be in the world spotlight running for gold in the 2012 London Olympics. It's a dream come true for Morgan and her family.
"It's been a long journey. I don't know if she ever really could grasp that that was the end of the tunnel. But she accomplished it and we're pretty proud of that," said Brenda Uceny.
Proud indeed.
Morgan punched her ticket to the Olympics in grand fashion winning the U.S. Trials in Oregon and backing up her No.1 world ranking from 2011.
Continue reading at: wsbt.com