Plymouth's Uceny to Run for Gold Friday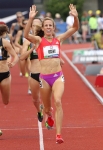 August 08, 2012
By Angelo Di Carlo, WNDU-TV
Michiana's Golden hope will get a shot at a gold medal. Plymouth's Morgan Uceny finished 3rd in the semifinals of the 1500 meter women's run Wednesday afternoon in London. The Plymouth native now advances to the finals on Friday.
The race aired on WNDU-TV at 12:45am Thursday.
"You know I was nervous, the first one I was taking it all in and having a good time and today I felt those nerves," Uceny explained. "My first time at the Olympics and getting to the final means a lot, but I'm not here to participate, I'm here to get on the podium."
Continue reading at: wndu.com