Q&A: New 1500m American record holder Shannon Rowbury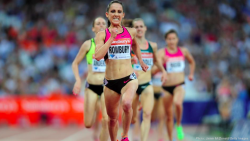 July 22, 2015
"Seeing how much my fitness has progressed gives me the confidence that I have the ability to race with the best in the world. That's what it will take to get on the medal podium."
By Christopher Chavez, Sports Illustrated
On July 17, at the Monaco Diamond League meet, Shannon Rowbury of the U.S. found herself kicking down the final stretch of the women's 1500-meter run well behind Ethiopia's Genzebe Dibaba, who was on her way to a stunning world record of 3:50.07. Swept along, Rowbury would finish third in 3:56.29, breaking Mary Slaney's U.S. record of 3:57.12, a mark that had stood for 32 years. SI caught up with the new American record holder before she heads off to Park City, Utah, and Japan for altitude training ahead of next month's world championships in Beijing.
SI: Has the title of "American record holder" settled in just yet?
ROWBURY: It's something I've had way back in my mind since 2008, when I ran 4:00 [4:00.33 at Paris] for the first time . I was like 'Oh wow. Maybe the American record is something that I am capable of.' Last year I saw Jenny Simpson come very close to achieving it in a race in Paris, where I ran sub-four for the first time. I was pleased, but I was still two seconds behind her. This year, I'm happy to be able to run not just an American record but to run 2:56 and get it by almost a full second was a bit of a shock, even though it's been something I've dreamed of and have been working toward for so long. When it actually happens, it was such a surprising joy.
Continue reading at: www.si.com