Sir Walter Miler: New Template for Popular Track Meets?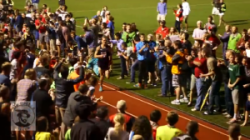 August 09, 2014
"It was the best event I have ever been to as a track athlete." - Ford Palmer, winner of inaugural Men's Elite Sir Walter Miler
By LetsRun.com
The winner of the inaugural Sir Walter Miler - a Bring Back the Mile Featured Event - was first-time sub-4 Miler Ford Palmer of NJ*NY Track Club, the vegan/bartender/lifeguard/HS football player that took fifth at USAs in the 1500, who used a strong last 200 to lead three men under 4:00 in 3:57.61. While Palmer was obviously capable of the time (he ran 3:38 for 1500 at Oxy in May), sub-4:00 was a long time coming as he has run 4:00 four times, including a 4:00.00 at this year's Penn Relays.
Even though Palmer broke 4:00 easily, he didn't know he was under until the final meters. "Normally when there's a clock at the finish line, you can see the time with 100 to go, but with the amount of people on the track, I couldn't see the clock until about two feet to go," Palmer told LetsRun on Monday. "I saw 3:56, 3:57 and I was like, 'Oh my God, I did it!'"
Meet organizers of America, take note: this is how you put on a professional track meet. There were just three races on the schedule and fans were allowed on the track for the two pro races, creating a noise tunnel on the home stretch for all four laps. Palmer said that when he went back and watched the race video, he had to take out his headphones because the crowd was so loud and that it was the same level of noise when he was actually running.
Continue reading at: www.letsrun.com