State Mile Guide: #2 Pennsylvania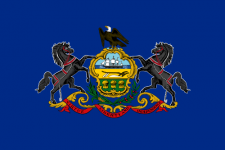 March 13, 2013
Date of Statehood: December 12, 1787
Capital: Harrisburg
Motto: Virtue, Liberty & Independence
The Commonwealth of Pennsylvania has a rich Mile history with the "State of Independence" hosting some of the fastest and most exciting Mile races in the United States. The historic Penn Relays has produced some of the state's fastest Miles including Tony Waldrop's 3:53.2 in 1974 and Mary Decker Slaney's 4:26.10 in 1997, both still meet records. Pennsylvania was also host to the epic 1971 Dream Mile at the Martin Luther King International Freedom Games held at Franklin Field between legends Marty Liquori and Jim Ryun. And then there was 20-year-old Mary Decker setting the still standing state record of 4:23.49 at the East Coast Meet of Champions 18 years earlier than her Penn Relays Mile record. In addition, Pennsylvanians also have a rich history with the Mile from 1908 Olympic gold medalist Mel Sheppard to two-time Olympic medalist (800m) Kim Gallagher and more recent record runs by prep stars Angel Piccirillo,Taryn Parks and Marlee Starliper.
On May 14, 2022, Gary Martin recorded the first sub-4 minute Mile by a Pennsylvania high schooler, clocking 3:57.98 at the Philadelphia Catholic League Championships, the 14th U.S. prep sub-4 and the fastest HS-only Mile.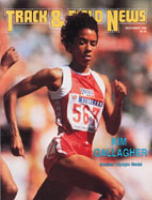 Olympian Kim Gallagher appears on a T&F News cover in 1988.
STATE RECORDS
Pennsylvania Soil
Male: 3:52.26, Steve Scott (USA / CA), 1981
Female: 4:23.49, Mary Decker (USA / OR), 1979 (former AR)
Pennsylvanian
Male: 3:55.89i, Nick Dahl, 2022
Female: 4:24.85, Gina Procaccio, 1990
i = indoors
BOYS:
Mile: 3:57.89, Gary Martin, Archbishop Wood Catholic, 2022
1600m: 4:01.00i, Gary Martin, Archbishop Wood Catholic, 2022
GIRLS:
Mile: 4:36.94, Kim Gallagher, Upper Dublin HS, 1982 (Open competition)
Mile: 4:37.76i, Marlee Starliper, Northern York, Dillsburg, 2020 (HS-only competition)
1600m: 4:39.42, Angel Piccirillo, Homer-Center HS, 2012
i = indoors
Did you know?
In 1974, Denis Fikes from the University of Pennsylvania finished second at the Penn Relays in 3:55.0 to Tony Waldrop's still standing meet record of 3:53.2. Fikes' mark was the fastest 'first time under 4 minutes in the Mile' by an American, which stood until Steve Holman's sub-4 debut of 3:53.31 in 1992.
BBTM note - originally we stated that Fikes was the first African-American to break 4 minutes in the Mile. Reggie McAfee was actually the first to do so when he ran 3:59.3 in Raleigh, NC in 1973, interestingly also finishing second to Tony Waldrop who also broke 4 minutes for the first time in that race (3:58.4). Thank you to Mark Wenneker for the contribution.
JOIN BBTM
BBTM's state-by-state Mile guide is being produced to share the rich story of each state's history with the Mile, a distance regardless of age, gender or fitness-level, that everyone understands. If you consider yourself a Pennsylvanian T&F sage and would like to help us expand our guide, email milemaniac@bringbackthemile.com or leave us your comments below. We welcome your support and feedback!
REFERENCES