The Oak City Mile continues Downtown Raleigh's Road Mile tradition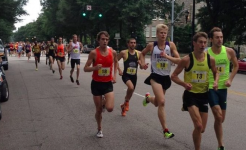 September 04, 2015
The Oak City Mile, a BBTM Featured Event, is the USATF NC 1 Mile Road Race Championship with a $2300 prize purse on Sunday, September 13.
From Sir Walter Running
Despite course changes, Raleigh's Downtown Road Mile will continue on its regular Sunday afternoon in September (the 13th) with the Oak City Mile. The course will now start on the railroad bridge on Hillsborough Street and head towards campus, with the halfway turnaround at the Morgan Street roundabout. The open event will once again serve as the North Carolina USATF Road Mile Championship with $2300 in prize money up for grabs. Raleigh-based investment advisory firm, CAPTRUST Financial Advisors, will serve as the Gold Level sponsor of the event.
Local road race veterans, Precision Race, will handle timing and event management. "We've been involved with the previous race for several years, and we were sad to see it go. We decided to keep honor the tradition of the downtown mile race and keep the Mile alive by creating the Oak City Mile. We appreciate the support we have received from the City of Raleigh, Runologie, the ALS Association Jim "Catfish" Hunter chapter, and the Sir Walter Miler team. We expect a strong elite field and many members of our running community to come out for the inaugural race on September 13th," said Precision's Bruce Bokish.
Runologie will host a course preview run on Thursday, September 10th; and will also host pre-race packet pick up, and a post-race party, with their neighbors, State of Beer. "The running vibe on Hillsborough Street wouldn't be the same without a fall Mile race. We are thrilled to be a part of bringing the race back," said Runologie Co-Owner Brent Francese.
Sir Walter Running will handle all publicity for the event, as well as elite athlete coordination. Coming off of the recent success of the Sir Walter Miler, where Sports Illustrated called the event the "best glimpse of future growth for American track," the group will look to put together a field of the best Milers in the state. Elite athletes will include Isaac Presson (3:58.67), Sandy Roberts (4:01.21), Andie Cozzarelli (4:47.92), Molly Nunn (4:59), Ericka Charles (5:00.21), and more to be announced.
The Oak City Mile is also a Bring Back the Mile featured event. "We love working with community events who are celebrating the Mile and Raleigh has shown an incredible affinity for the iconic distance," stated Bring Back the Mile's David Monico. "The Oak City Mile is another great event that truly showcases that the Mile is for everyone – whether you're 8 or 80, just looking to get in a fun family run, a fast workout or looking to break 4 minutes!"
Oak City Mile Race Information
On the web: OakCityMile.com | Facebook | Twitter | Instagram
Race Location: Start/Finish is on the railroad bridge on Hillsborough Street between the Edenton Street merge and Glenwood Avenue
Course Preview Run: Thursday, September 10th – 6pm at Runologie
Packet Pick Up: Saturday, September 12th – 3-5:00pm Advanced Check-In & Registration at Runologie
Race Day: Sunday, September 13th – Noon to 2:00pm – Race Day Check-In & Registration
2:00pm: Men's Mile Race
2:20pm: Women's Mile Race
2:50pm: Awards at Runologie
3:00pm: Post-race social at State of Beer
Open Awards
Prizes (based on gun time) are provided by Runologie and include Top 3 Overall and Masters
Age Group: 15 & Under, 16-19, 20-24, 25-29, 30-34, 35-39, 40-44, 45-49, 50-54, 55-59, 60-64, 65-69, 70+
USATF Awards
Open (Men & Women): 1st – $350, 2nd – $250, 3rd – $200
Masters (Men & Women): 1st – $200, 2nd – $150
Winners must be active USATF members who lived in NC for the past year and provide their USATF number.
For more information, contact Pat Price with Sir Walter Running at sirwalterrunning@gmail.com and (919) 260-8013.