Torrence Predicts Fast Times at Falmouth Mile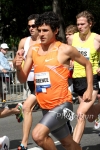 August 09, 2013
Top men's field expected to challenge event record; 12th stop on the nationwide inaugural Bring Back the Mile Tour
By Chris Lotsbom, Race Results Weekly
CAPE COD, Mass. -- David Torrence expects something special from Saturday night's Falmouth Mile here on Cape Cod. Speaking with Race Results Weekly on July 27 at the Sainsbury's Anniversary Games in London, Torrence said that a fast time, perhaps as low as 3:51, could be run on the James Kalperis Track at Falmouth High School.
"I wouldn't doubt it if we end up going just as fast, if not faster, in Falmouth where it's a more controlled meet," said Torrence, 27, referring to a mark matching those run at London's IAAF Diamond League meeting. At the Olympic Stadium, Torrence timed 3:52.74 for eighth in the Emsley Carr Mile field that included IAAF Diamond League 1500m points leader Ayanleh Souleiman and Olympic 10,000m silver medalist Galen Rupp.
Torrence (left, Falmouth Mile) won the 201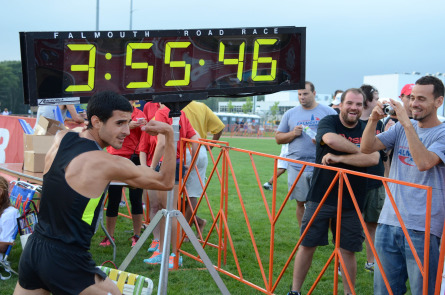 2 edition of the Falmouth Mile with a time of 3 minutes, 55.79 seconds, leading a total of six men under the coveted four minute mark.
The Mile -- held on the eve of the New Balance Falmouth Road Race -- is known for fast times despite its casual atmosphere. Nestled behind a high school and surrounded by trees, one wouldn't expect world class times to be run on the multi-colored track. The opposite is true.
In the last three years, 18 finishers have run under four minutes, including ten in 2011 (Editor's note: included among those breaking four minutes in 2011 was Christian Hesch, who subsequently received an IAAF performance enhancing drugs ban for EPO in 2012). In 2012, the women's Mile world leader was run on the track by Brenda Martinez; her winning time was 4:26.76.
"It is pretty fast," said Torrence, commenting on the track's characteristics. The Falmouth High School track surface is noted by organizers as being "The fastest "Mondo" track facility on the East Coast."
Continue reading at: http://falmouth-road-race.runnerspace.com