U.S. High School Phenom Smashes Records—While Coach Tries to Keep Pressure Off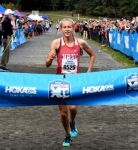 November 18, 2017
Mile record setter Katelyn Tuohy, a sophomore at North Rockland High School in New York, has been winning by astonishing margins this cross country season
By John A. Kissane, Runner's World
One summer day in 2012, a cross country coach caught sight of a small girl running with her father. He remembers the moment well.
"She had this beautiful stride," said Brian Diglio, the coach of the track and cross country program at North Rockland High School in Thiells, New York. "I was like, 'Oh, my goodness. I've got to find out who this kid is.'"
The girl was 10-year-old Katelyn Tuohy. While she enjoyed the occasional run with her parents and older brother, Patrick, soccer was her only sport back then. But fortunately for Diglio, Tuohy soon decided try middle school track.
As a seventh grader, Tuohy exceeded Diglio's expectations. The coach moved her and a classmate to the high school varsity team in the winter of 2015, and Tuohy was a force on the national scene within months, running 4:58.40 for the Mile and breaking the New York seventh-grade record held by another famous distance runner: Mary Cain, a prodigy who made it to the 2013 World Championships at age 17.
Tuohy's cross country abilities also showed right away. She won four races as an eighth grader before finishing her season with a 49th-place showing at Nike Cross Nationals in Portland, Oregon. Last fall, as a freshman, she improved to 13th at NXN. With solid improvement last winter and spring, Tuohy broke a pair of Cain's national freshman records, running 2:47.86 for the indoor 1000 meters and 4:45.95 for the outdoor Mile.
Continue reading at: runnersworld.com