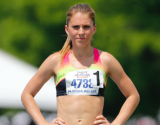 August 12, 2015
Southern cooking rules in the diet of this Miler.
By Cory McGee, Running Times
In 2013, while she was an undergraduate at the University of Florida, Cory McGee ran her 1500m PR of 4:06.67. That was the same year she made the U.S. team for the IAAF World Championships in Moscow. Now training...
Read More
comments