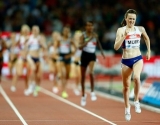 November 04, 2016
"Each race that I've done well in over the last couple of years just boosts that confidence more and more. I'm getting more confident about the way I'm running and how I attack races."
By Jane McLeod, The National
Laura Muir reckons discovering her arrogant streak can help her make up for her...
Read More
comments