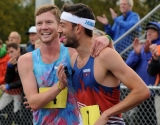 December 07, 2017
It's rare to root for someone as they're actively beating you, although this was a special occasion.
By Kyle Merber for Tracksmith
In late May, Trevor Dunbar texted me. A week later and we were sitting for lunch in Concord, Massachusetts ahead of the Adrian Martinez Classic. My ears were open...
Read More
comments