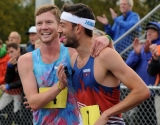 September 14, 2017
"It's great to see these athletes up here, especially so the younger kids can see it and get some inspiration. It's nice exposing them to athletes of this caliber."
By Beth Bragg, Alaska Dispatch News
Fourth place has never felt better for Trevor Dunbar.
Dunbar, the only Alaskan to break...
Read More
comments