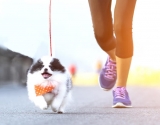 May 04, 2017
Grab your favorite four-legged friend and get ready for a whole new kind of race.
By Sara Angle, SHAPE Magazine
Not all races need to be about getting a new PR—sometimes they can just be about having fun with your best friend. And hey, if that friend happens to have four legs, even better! A...
Read More
comments