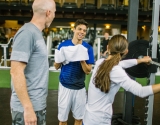 June 21, 2015
"I have silver and bronze, at this point," Centrowitz said. "I don't think it's arrogant for me to say that's the goal in the back of my head."
By Ken Goe, The Oregonian
The big goal this year for Matthew Centrowitz is to stay focused.
So far, so good.
With doping allegations swirling...
Read More
comments