Cancer Survivor Gabriele Anderson Chases Down Olympic Dream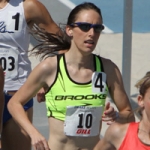 May 10, 2012
By Eric Perkins, KARE 11
MINNEAPOLIS - Methodically, Gabriele Anderson motors around the University of Minnesota track. Singularly focused, she has her sights set on gaining a spot on the United States Olympic team in the women's 1500 meter race. The Olympic Trials is set for late June in Eugene, Oregon.
She'll have her work cut out for her. The Americans are loaded in the 1500 meter women's talent pool.
Right now, the former Gopher has the fifth best time in the country in the event. But dealing with obstacles and challenges is something Anderson is all too used to. "It's been a journey", she admits.
The Perham, Minnesota native was breezing through her budding college career at the U, when all of a sudden, she was forced to stop.
"I could definitely feel it. It wasn't big by any means, but it just didn't feel right." What she felt was a lump in her neck that turned out to be adenoid cystic carcinoma.
Continue reading at KARE11.com