Happy 3rd Birthday, Bring Back the Mile!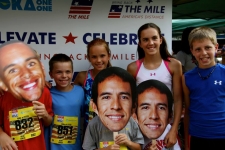 January 19, 2015
Mile's growth and excitement continue as BBTM enters Lap 4
By Ryan Lamppa, BBTM Founder
It's true: time does fly when you are having fun, and it is truly hard to believe that Bring Back the Mile is celebrating its third birthday and currently working on Lap 4 for the coming year. So what has happened over the past three years for BBTM and the Mile? One word: plenty.
Over the past three years (2012-14):
The United States has the world's best Milers, both genders combined, led by global championship 1500m medalists Jenny Simpson, Leo Manzano, Matthew Centrowitz and Shannon Rowbury and teen phenom Mary Cain.
Since our 2012 launch, there are more Mile races in the USA and the world, averaging more than 25 new events per year.
Prize money at Mile events increased by 63% from $138,750 in 2012 to $226,490 in 2013 and by 26% from $226,490 in 2013 vs. $285,310 in 2014.
Mile anniversaries were celebrated by the sport and the media: 50th first sub-4 minute Mile indoors (Jim Beatty, Feb 2012); 60th anniversary first sub-4 in history by Roger Bannister (May 2014), 50th anniversary first high school sub-4 by Jim Ryun (June 2014) and The Mile of the Century (Roger Bannister vs. John Landy, August 2014).
Every year, BBTM has received major media articles and coverage including Sports Illustrated, AP wire, NPR, Wall Street Journal, USA Today and Runner's World with a total print circulation of more than 40 million plus millions of eye balls on-line.
BBTM Tour 2013 and BBTM Grand Prix Tour 2014 showcased top events and Milers across the country.
BBTM Launch & Annual Reviews (2012-14)
A BIG thank you to our BBTM Supporters, Partners and Fans. Together, we have elevated the Mile and celebrated the storied distance, and without question, the Mile is in a better place than 3 years ago, and we believe that the best is yet to come. Happy Birthday BBTM, and go Mile!