Is Something Wrong with U.S. Milers?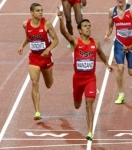 June 19, 2013
A perfect storm of factors leads to a lack of fast 1500 meter times in 2013 for U.S. men
By Peter Gambaccini, Runner's World
As runners line up for the first round of the men's 1500 meters on Thursday at the USA Outdoor Track & Field Championships in Des Moines, none of them will have the "A" standard for August's world championships. As one of those runners, Matthew Centrowitz, says, "it's more than likely no one's going to get it" in Saturday's final. Unless at least one runner possesses the "A" standard by July 20, the United States will send only one 1500 meter man to the world championships.
A year after Leo Manzano won the silver medal and Centrowitz came in fourth in the Olympics, how did this reality come to pass? Is it something to panic about?
The world championships "A" standard is 3:35.00. In a perfect world, at least three Americans achieve it. But the only American who currently has it is Galen Rupp, who ran 3:34.78 during the indoor season, but Rupp is running the 5000 and 10,000 meter races in Des Moines. Every other world championships event as long or longer than the 1500 has at least three American athletes with the "A" standard, including the women's 1500, which has seven, five of whom are expected to race that distance in Des Moines.
There are other scenarios for U.S. team selection, outlined here, the most dire of which would have the USA 1500m winner achieving a "B" standard (3:37.00) and no one in the next three spots having an "A." In that case, that first place finisher would be the sole American 1500m entrant in Moscow.
The elite American middle-distance runners don't expect any such nightmare scenario to happen. After the USA Championships, the top four finishers will be free to pursue "A" standards until July 20. Two 1500s, in Paris on July 6 and Monaco on July 19, are likely to be fast single-file pursuits, and a plenitude of runners could be pulled under 3:35.00. There are lesser races in Europe between this weekend and July 20 that are still of high caliber.
Right now, the fastest 2013 outdoor times of men entered in the USA 1500 belong to Will Leer (3:36.67), Russell Brown (3:36.79), Andrew Wheating (3:37.03), Manzano (3:37.04), Lopez Lomong (3:37.08), and Centrowitz (3:37.27).
Continue reading at: www.runnersworld.com