Masters, Lipari Ready to Defend USA Titles at Grand Blue Mile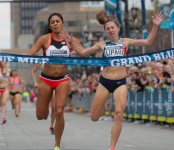 April 12, 2019
10th edition, first stop on the BBTM Grand Prix Tour 2019, offers $25,000 Open purse with $5000 for each national champion
Grand Blue Mile race officials have announced preliminary fields for the 2019 USATF 1 Mile Road Championships set for Tuesday, April 23, in downtown Des Moines. A world class group of elite Milers will headline the 10th edition, the first stop on the BBTM Grand Prix Tour 2019 presented by Running Warehouse. In addition, approximately 3,500 participants from across the nation will compete among the recreational and amateur competitive divisions.
"We're excited to continue the tradition of welcoming high-profile, high-caliber athletes to Grand Blue Mile in partnership with the Drake Relays," said Chris Verlengia, Wellmark Blue Cross and Blue Shield's senior brand marketing manager and Grand Blue Mile co-race director. "As Grand Blue Mile marks its tenth anniversary, being entrusted to host a fifth national championship in 10 years provides even more reason to celebrate the tremendous impact this special event has throughout central Iowa and beyond."
This year's race offers a top prize of $5000 each for the men's & women's national champions with the potential to earn an additional $2500 for setting a course record — currently 4.00.0 (Clayton Murphy, 2017) and 4:32.7 (Heather Kampf, 2014), respectively. Overall, $25,000 in prize money will be contested across the men's & women's USA Championship divisions.
In the men's Open division, returning to defend his national title is Riley Masters (NOTE: Masters has scratched). Top men include:
• Harun Abda
• Julius Bor
• Mikey Brannigan
• Joe Coffee
• Jake Edwards
• David Elliott
• Nick Harris
• Daniel Herrera, defending BBTM GP Tour champion
• Tripp Hurt
• Lawi Lalang
• Brandon Lasater
• Will Leer
• Mike Marsella
• Kyle Medina
• Kyle Merber
• Chad Noelle, 2016 Grand Blue Mile champion
• Jay Welp
In the women's Open division, returning to defend her U.S. title is Emily Lipari as well as Heather Kampf, three-time Grand Blue Mile champion. The pair will be challenged by:
• Grace Barnett
• Savannah Camacho-Colon
• Hannah Fields
• Therese Haiss
• Rebecca Hehra
• Nikki Hiltz
• Marisa Howard
• Rebecca Mehra
• Shannon Osika
• Megan Rolland
• Ashley Stinson
• Maddie Van Beek
• Alexina Wilson
Additional entries to the USATF 1 Mile Road Championships fields will be finalized next week.
Mascot Madness Charity Challenge returns
Iowa's most popular mascots are back to compete against each other in the Mascot Madness Charity Challenge. Mascots will run the backstretch of the Grand Blue Mile race course in a friendly competition. The winning mascot from each division will be awarded a $1000 prize for their school or organization's charitable foundation.
Confirmed mascots in the "fast" division include:
• Viktor (Grandview University)
• Rosie the Reader (Des Moines Public Library)
• Wanda the Wallaby (Blank Park Zoo)
• Sam the Ram (Iowa Educational Services for the Blind and Visually Impaired)
Confirmed mascots in the "furriest" division include:
• Champ (Iowa Games)
• TC (University of Northern Iowa)
• Cubbie Bear (Iowa Cubs)
• Spike (Drake University)
• Cy (Iowa State University)
• Herky (University of Iowa)
Register today!
Youth and adult registration for the Grand Blue Mile is $20 and $25, respectively, with proceeds supporting school-based wellness programs in association with Iowa Kidstrong and the historic Drake Relays.