Meet the Miler: Therese Haiss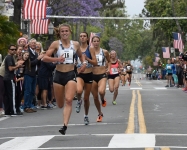 June 07, 2019
The 2019 State Street Mile champion toes the line at the inaugural Virginia Mason Memorial Downtown Yakima Mile on Saturday evening.
By David Monico, Bring Back the Mile
Coming off of a thrilling win at the 20th State Street Mile, an event record and fastest recorded women's Mile on California soil with her 4:19 clocking, rising star Therese Haiss eyes another win at the inaugural Virginia Mason Memorial Downtown Yakima Mile on Saturday. The Ohio native and Arkansas Razorback alum and All-American, Haiss, 23, recently joined coach Terrence Mahon's emerging The Mission Athletics Club stable in San Diego, CA.
We sat down with Haiss after her State Street Mile triumph in Santa Barbara, BBTM's headquarters.
BBTM: How did the win at the State Street Mile feel?
Haiss: If there's one phrase to sum it up is that I enjoyed the entire experience. Going into it I've been having kind of a rocky start to my professional season. A lot of races have been kind of rough for me, but the training has been good. Going into this road Mile, my first race since April's Grand Blue Mile that did not go well, I really just wanted to take small steps. It was just getting to the line, being happy, being excited.
After that I really just wanted to run and so crossing the finish line in first was I don't want to say a huge surprise, but it felt really good. It was really exciting. And I definitely think part of it was just the overall experience. The location, Santa Barbara itself is just beautiful, really fun and exciting, first time to be there. And then the race itself, that gradual downhill just lets you roll along all the way to the finish and that was really fun.
You were really close to the $10,000 Super Bonus if the women's winner ran under 4:17. Did you have that on your mind?
I remember when I was first reading about it, it's like, to drive up from San Diego, it's 3 to 4 hours. If you can come away with a couple hundred, whatever, it's a win and a racing experience. But to come away with a win, a course record, I wasn't even too caught up on the $10,000 bonus really at all because I was like, "I have no experience with this course."
To have to run that fast, I don't even want to put that in my head, but then to have finished and ran under 4:20, I was just like, "Okay, actually, maybe one day." But I'm glad that I ran the way I did.
What was the transition like from Ohio to college to now San Diego?
I think the first move from high school to college was a little bit naive in a way. I definitely wanted to get away from Ohio in a sense. I just wanted to go somewhere else. I wanted to be a part of something new and different. Not so much get away, I wanted to be somewhere new. But I think that that was a big jump. And I am a very family oriented person and that was extremely hard for me. I never would have known that if I hadn't made that move.
Going to Arkansas I had a lot more races that were close enough so that my parents could make it to come out and see them. Just the trip getting home. There were a couple other people on the team in Arkansas who were also from northeast Ohio, so that worked out really well too. I definitely would attribute my success at Arkansas to just feeling a little bit closer to home. And then also being older, wiser, stronger in the sport in general.
Ultimately, once I graduated, once Nikki [Hiltz] graduated, definitely things have changed from getting through the collegiate system and feeling supported by your family. It's kind of like, "Okay, what is the best move for us." We both want to continue growing in the sport. And kind of looking at what companies and training groups made sense for both of us. It ended up being with The Mission Athletics Club in San Diego with adidas and it's been absolutely fantastic.
I'm older now. I definitely get to see my parents, it's very important to me. And our traveling to races is a lot more across the country so sometimes that ends up being somewhere my family can come see me. But also through extension, any time I get to see Nikki's family too [editor's note: Hiltz grew up in Aptos, CA], it definitely helps me feel supported, living in California.
How has the team come together in San Diego under Terrence?
We have a nice sized group and for the most part most are based in San Diego. It's a nice hub with Terence and his wife Jen [Rhines]. When we arrived, it was kind of like, "Oh, it's a really young team." So a lot of things are very individualized and then if you're bringing a bunch of people from different backgrounds, it's going to take time to put everyone on the same page and get everyone intertwined and feel more team-esque. But I would say now it's definitely, we're figuring out how to work together better and in practice figure out when it's good to group up for something vs. go on your own. And then especially with building on social media platforms, we are all really looking to push this whole, "We are a team."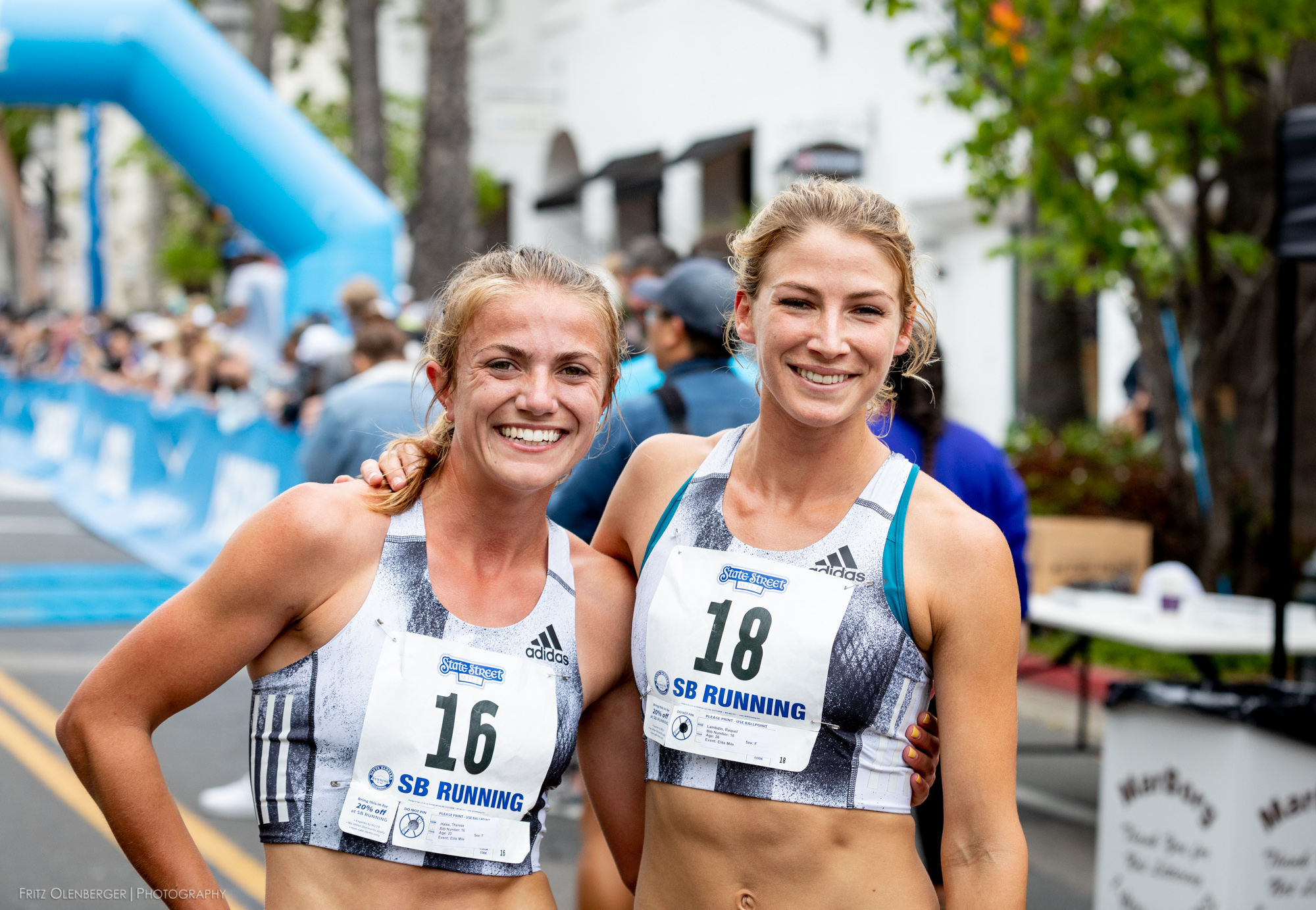 And I say this because we are. We do feel that way at practice, when we travel to events. I would have loved for Rocky [Raquel Lambdin, far right, photo] to have been second [at the State Street Mile] but I was so happy for her to have come in third, and also tie the previous record. That was just an awesome breakthrough moment for both of us, and I think it looks really good for our group in general.
What is your focus right now for upcoming races?
The 1500 for sure and the road Mile. I've definitely been working on the strength side of things. Coming out of college I always thought that I was really strong for a 1500 runner, good endurance, but once I moved out here and started working with Terrence I quickly realized that I have a lot of work to do and a long way to go. But it's been a lot of fun and I'm lucky that Nikki and a couple of the other girls who are 1500-800, 1500-5000, we can do a lot of the endurance workouts together. So that's been good.
Do you enjoy the track or road racing more?
I enjoy both. At this point, the State Street Mile is one of my favorites and I think I'm really going to like the point-to-point Yakima Mile course too. I also loved doing the Guardian Mile back in Cleveland last August, just hometown stuff, and last year's Minnesota Mile in Duluth took you along this cliff edge that you can just look out and it's really cool. That one was tough, but that's a cool spot for sure.
What got you started in running?
I was a very avid soccer player for a long time. But I was really quick and I had great endurance. I could just play the whole game and give 110 percent the whole time. And that was really unique especially when I was younger. And one of my teammates on the soccer team asked me to join her to do this, it's called CYO, Catholic Youth Organization, cross country team. I love sports, I love all of it, so I was like, "Why not?" Another social competitive stage. And I ended up winning the first race I ever ran. It was in 5th grade, not a huge deal by any means but definitely addictive, that winning feeling.
I pretty much kept going from there. So I think I first fell in love with it for the competitive aspect. I definitely love the grind and to finish and feel like you gave everything, and for me it was typically I would finish, if not in the front, in the top 5. I would say that definitely kept me going through college.
What keeps you running and racing now?
While I was in college I definitely fell in love with the therapeutic side of running. There's just nothing better than just feeling proud and fit at the end of a long run. I think that that's my favorite feeling is just running. My long runs are only 12 miles, but if I ran a good long run there's nothing that can brighten my day over that. I think I'm in love with that feeling. Just every day getting up and going for a run, having a good work out. And of course this past weekend was really exciting to have another win. It's been a while. But that will play into the next chapter of my life. How many times I can come away with that upfront feeling again, but I definitely love fitness and a good long run.
Thank you, Therese, and good luck at the Yakima Mile, the BBTM Grand Prix Tour 2019 second stop.
Looking forward to it!
[UPDATE: Haiss won the Yakima Mile title, beating Heather Kampf.]