Team USA Minnesota Athletes Help Bring Back the Mile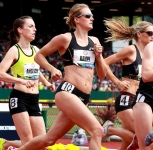 August 09, 2012
Gabriele Anderson at Falmouth Mile August 11; Heather Kampf, Jamie Cheever at Liberty Mile in Pittsburgh August 17
MINNEAPOLIS – (August 9, 2012) – Three Team USA Minnesota runners will compete in Mile events this month, with Gabriele Anderson at the Falmouth Mile in Massachusetts on Saturday, August 11, and Heather Kampf and Jamie Cheever among the elite field at the inaugural GNC Live Well Liberty Mile in Pittsburgh on Friday, August 17.
Anderson will be making her third appearance at the Falmouth Mile having finished runner-up in 2010 and fourth in 2011. She has run the Mile in 4:31.05 and in July posted a personal best of 4:04.84 in the 1500 meters at a track meet in Europe. Anderson finished fourth in the 1500 meters at the U.S. Olympic Trials earlier this summer.
The Mile event will be held on the Falmouth High School Track beginning at 6:00pm on Saturday.
On August 17, Kampf and Cheever will run in the first annual Liberty Mile on Liberty Avenue in downtown Pittsburgh at 7:00pm. The race is expected to be the third largest competitive, one Mile road race in the U.S. with world class male and female Milers competing for a $25,000 prize purse.
Kampf has a best in the road Mile of 4:30.95 and won the USA 1 Mile Road Championships in May. Most recently she won the Ryan Shay Mile in Michigan on July 28 and last spring she was second at the Grand Blue Mile in Des Moines. At the U.S. Olympic Trials, Kampf was seventh in the finals of the 800 meters, and also ran in the semi-finals of the 1500 meters.
Cheever recently completed a track tour in Europe where she set a personal best of 4:17.73 in the 1500 meters and was second in the steeplechase at a meet in Belgium. She has a best in the Mile of 4:39.5. Cheever was in the steeplechase finals at the U.S. Olympic Trials in June.
About Team USA Minnesota
Team USA Minnesota is based in the Twin Cities of Minneapolis / St. Paul. Formed in 2001, the purpose of the training center is to improve the competitiveness of post-collegiate American distance running and to develop Olympians. The athletes are coached by Dennis Barker, head cross country and track coach at Augsburg College in Minneapolis. Team USA Minnesota's major sponsor is Life Time Run and its silver sponsor is Twin Cities in Motion. The training group is also supported by the New York Road Runners and the USA Distance Project and is also a Bring Back the Mile partner.
For more information, go to: www.teamusaminnesota.org