The Best Mile Moments of 2020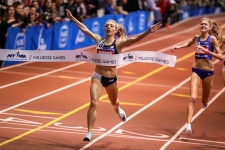 December 22, 2020
Longstanding women's U.S. indoor Mile record shattered; 11th U.S. high schooler sub-4; two outdoor Masters age group world records; COVID-19 causes cancelled events, limited racing year
By Ryan Lamppa, Bring Back the Mile
The main storyline of 2020 was obviously the COVID-19 pandemic and its extended ripple effects in our world and sport, and as a result, unlike previous years, there were much, much fewer opportunities for athletes to shine in the Mile. Nonetheless, despite cancelled events, including the BBTM Grand Prix Tour, and the abbreviated racing season, there were some noteworthy & historic Mile performances to celebrate and recognize, including one major U.S. Mile record.
Also, hats off to those post-February 2020 Mile events that pivoted to virtual platforms to keep runners engaged during these challenging, unprecedented times.
FAST FACTS 2020
►Longstanding U.S. indoor Mile record (women) was shattered in 2020 (see below).
►Due to COVID-19 race cancellations, prize money, dramatically and unsurprisingly, fell from $626,950 in 2019 to less than $100,000 in 2020.
►This year, 19 U.S. men produced their first sub-4 minute Mile on the track, and for the 15th consecutive year, the first sub-4 U.S. annual number again reached double digits with an average of 23 first-timers over the past 9 years (since BBTM's launch) compared to only 7 per year from 1957-2011.
►In 2020, four U.S. women ran their first sub-4:30 track Mile, and since 2012, first-time U.S. women to this select club have averaged just over 5 per year compared to only 1 per year from 1975-2011 or in other words, 56% of the overall total (47 women out of 84) have been recorded since 2012 (The BBTM Effect).
Purrier pulverizes U.S. indoor Mile record at Wanamaker – February 8
At the 113th Millrose Games, Elinor Purrier won a thrilling Wanamaker Mile, clocking 4:16.85 to shatter Mary Slaney's longstanding U.S. indoor record of 4:20.5 from 1982; also Purrier (photo above) is the #2 all-time woman indoors. In addition, three other national records were set by defending champion Konstanze Klosterhalfen (GER), 4:17.26, Jemma Reekie (GBR), 4:17.88, and Gabriela Debues-Stafford (CAN), 4:19.73. Eight women went sub-4:30 in arguably the greatest women's indoor Mile race ever.
In the men's NYRR Wanamaker Mile, Chris O'Hare (GBR) captured the crown for the second time in three years (also 2018), breaking the beam in 3:55.61; overall, 10 men ran the benchmark sub-4 standard.
Lost in the jaw-dropping record rampage, Marlee Starliper, from Dillsburg, PA, defended her high school Mile title in 4:37.76, a meet record and #2 all-time indoors U.S. high school-only.
Oh so close for HSer Cruz Culpepper – February 15
At the Husky Classic in Seattle, Cruz Culpepper, son of U.S. Olympians Shayne & Alan Culpepper, ran a 4:00.10 Mile, stumbling at the finish to just miss his first sub-4, but clocking the 4th fastest U.S. high school indoor Mile.
In the same race, New Zealand's Theo Quax clocked his first sub-4 in 3:58.13 to become, with his late father Dick, a 1976 Olympic silver medalist, only the 12th father-son combo in this exclusive sub-4 fraternity.
Daschbach 11th U.S. high schooler sub-4 – May 23
At the Quarantine Clasico in El Dorado Hills, California, Leo Daschbach, the Highland (Arizona) High School senior, became the 11th U.S. high school boy to break 4 minutes in the Mile and the 6th since 2015 (The BBTM Effect), clocking 3:59.54. Daschbach dashed a sub-57 final lap in the specially set-up event. The University of Washington recruit also ran the 4th sub-4 in a HS-only race. Bravo!
Coburn crushes Colorado state Mile record – June 27
In a special race called the Team Boss Colorado Mile, 2017 world champion Emma Coburn shattered the Colorado state Mile record, clocking 4:32.72 at the Colorado Mesa University track in Grand Junction at altitude (4,583 feet). Previous record was 4:36.05 indoors by Dani Jones in 2018. Teammates Cory McGee and Jones also bettered the old mark in 4:33.39 and 4:34.50, respectively.
Morgan McDonald of Australia won the men's race in 4:02.07.
In addition, the event served as a benefit for the Sachs Foundation college scholarship fund for black students in the state, raising more than $30,000.
McGee mashes Indiana state Mile record – July 25
At the Team Boss Indiana Mile special event, Cory McGee won in 4:21.81, a personal and state record (previous record, 4:30.50, Nicole Sifuentes (CAN) indoors in 2016), and with her outdoor world leading time, she beat teammates Dani Jones and Emma Coburn who also ran track PRs in 4:23.33 and 4:23.65, respectively. McGee became the 8th fastest U.S. woman outdoors, Jones 10th and Coburn 11th.
In the men's race, three men went sub-4 with Tripp Hurt breaking the beam first in 3:56.18, followed by Nick Harris (3:57.11, PR) and Mason Ferlic (3:58.87, PR).
Harrison sets U.S. high school sophomore Mile record – August 15
At Music City Distance Carnival in Nashville, Rheinhardt Harrison, 16, from Ponte Vedra, Florida, ran a stellar 4:01.34 Mile, finishing 7th overall in the Open race and also setting a U.S. high school sophomore record. Previous U.S. sophomore class record was 4:03.29 by Edward Cheserek in 2011.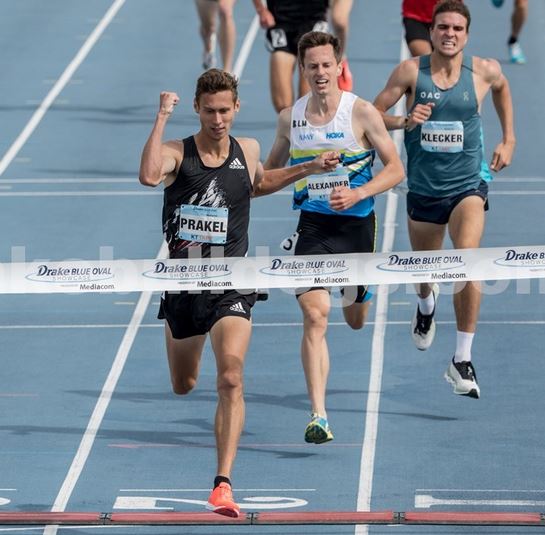 Prakel, Lipari USA Road Mile Champions – August 29
At a rare 2020 USA Championship, thanks to the Drake Blue Oval Showcase presented by Mediacom, Sam Prakel and Emily Lipari won USA 1 Mile Road Championship crowns, running 3:58.3 and 4:29.3 on a point-to-point course that finished on Jim Duncan Track inside Drake Stadium in Des Moines, Iowa. Prakel (left) produced his first national title, while Lipari, who also set a national championship record, earned her second road Mile (also 2018).
King of the Mile – August 29
At the South Carolina Trackfest in Columbia, Dan King, 61, clocked a Mile in 4:49.08 to set a 60-64 age group world record, beating the previous mark of 4:51.85. The Boulder, Colorado resident hit lap splits of 1:13.57, 1:11.31, 1:12.29 and 1:11.91.
At the same meet, Oliver Hoare of Australia won the elite Mile in 3:53.35, a personal and state record.
Ramsden records fastest Mile of 2020 – September 5
At the 30th Ambrosian Mile in Milan, Italy, Matthew Ramsden won the race in 3:51.23, a personal record (#3 Australian all-time) and the fastest time of the year. Yemaneberhan Crippa finished second in 3:52.08 (#2 Italian all-time) and Ryan Gregson (AUS) followed in third (3:52.38).
In another Mile heat, Davide Raineri of Italy, 46, set a 45-49 age group world record, clocking 4:10.30 to shatter his 4:13.96 from 2019.
ADDENDUM
McSweyn's Australian All-Comers record closes Covid-impacted year – December 29
At the Tasmanian Mile Championship in Penguin, Stewart McSweyn set an Australian All-Comers record, clocking 3:50.61, also the year's fastest time and fastest Mile run in the month of December. Previous Aussie AC record was 3:51.54 by Simon Doyle (AUS) in Melbourne on February 7, 1991. In September, McSweyn also ran an Aussie 1500 meter record in 3:30.51.
IN MEMORIAM
In 2020, we sadly lost the following Olympians & Mile greats: Jim Grelle (June 13) and Dick Buerkle (June 22), and we celebrate their outstanding careers & achievements.
With the COVID-19 vaccine now being administered worldwide, here's to better days ahead.