Why do Olympic runners race in the 1500 meters instead of the Mile?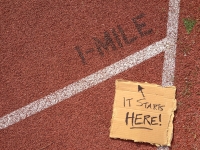 August 16, 2016
"The Mile is easy to explain to non-track people... Everyone understands a fast Mile."
By Oliver Staley, qz.com
Today (August 16) in Rio, some of the world's most talented runners will contest the 1500 meters.
That's too bad. They should be running the Mile instead.
The 1500 meters has been part of the Olympic program since 1896, reflecting the French origins of the modern Olympic movement and its founder, Pierre de Coubertin. It's also the distance used at the World Championships and at the NCAAs. But the Mile, just 109 meters longer, is a far superior experience for athletes and spectators.
While the 1500 meters takes three-and-three-quarter laps of a standard 400 meter track, the Mile is run in just a shade more than four laps. The symmetry of the four laps makes the Mile easy to follow, and is particularly useful when watching elite runners capable of challenging the coveted and understood sub-4 minute Mile. Cheering athletes against the clock, knowing each lap has to be run in under a minute, is one of the great spectacles in track, a sport that has far too few of them.
Thanks to Roger Bannister, who famously broke the 4 minute Mile in 1954, the Mile has transcended sport and moved into metaphor.
Continue reading at: http://qz.com