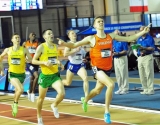 March 31, 2016
"I just loved the Mile, since that's kind of the track event that everybody knows about."
By Jeff White, VirginiaSports.com
CHARLOTTESVILLE -- Henry Wynne arrived at the University of Virginia in the summer of 2013. Had you asked Pete Watson then if Wynne might one day win an NCAA title, the...
Read More
comments