Americans have impressive showing at Emsley Carr Mile in London Diamond League Meet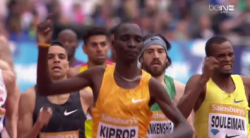 July 26, 2015
Kenya's Asbel Kiprop wins with strange tactics; American Miler Matthew Centrowitz runs 3:55.03 edging Anyaleh Souleiman for second place finish; Bernard Lagat sets Masters outdoor record with 3:57.91 clocking.
From LetsRun.com
In one of the strangest Diamond League Miles in history, Kenya's Asbel Kiprop won the Emsley Carr Mile at the Sainsbury's Anniversary Games in 3:54.87 as he demonstrated what makes him both great and vulnerable over the course of four laps in London. Kiprop led the chase pack until just before 800 meters, when he suddenly dropped back and allowed the entire 15-man field to pass him. Instead of dropping out, however, Kiprop hung back there for the next lap before rejoining the leaders with 300 meters to go and pulling away to win the race handily in the homestretch thanks to a 54.6-second last lap. It was a truly bizarre sight to behold; it was almost as if Kiprop was so confident in his fitness that he decided he needed to give himself an extra challenge. Behind Kiprop, American Matthew Centrowitz once again showed his skill in a tactical race, oudueling Ayanleh Souleiman for second in 3:55.03.
Rabbit Andrew Rotich got out quickly, leading the field through 400 in 55.25, but Kiprop showed no interest in chasing a fast time as he did in Monaco last week as he led the main pack through a couple of seconds behind the rabbits. Souleiman ran behind him in second with Centrowitz and fellow American Leo Manzano in third and fourth.
Things got weird on the homestretch just before 800 meters. Kiprop, leading on the inside of lane one, began to slow as he allowed Ben Blankenship and Chris O'Hare to move by him on the outside. A second later, he stumbled but managed to stay on his feet. Instead of fighting for position after almost going down, Kiprop seemed to zone out for a few seconds and within 50 meters he was running in dead last, the entire 15-man field having moved around him. It seemed as if Kiprop was about to drop out, but he instead stayed in the race, content to run the first 300 meters of the third lap in last place.
Continue reading at: www.letsrun.com