Bolas, Sifuentes Win Michigan Mile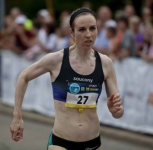 August 23, 2014
Event drew record 1,550 entrants; 5th stop on Bring Back the Mile Grand Prix Tour 2014
By Aaron McMan, Flint Journal
FLINT, Mich. -- Spectators of the Crim Fitness Foundation's Michigan Mile Race Series got quite the show on a warm, humid Friday night.
Three photo finishes highlighted the event in downtown Flint, a tune up for Saturday's Festival of Races. Canadian Olympian Nicole Sifuentes, 28, eked out a win in the women's division of the Professional Mile with an event record time of 4:44.13, edging defending champion Heather Kampf, Sarah Brown and Sara Vaughn, while Caleb Hess, 18, of Henderson, Michigan, repeated to win the Michigan Mile Open clocking 4:38.07.
Jack Bolas, 26 and a former four-time All-American at the University of Wisconsin, won the men's division of the Professional Mile in 4:06.76. Bolas was the first to run a sub-4 minute Mile on Alaskan soil last September.
Friday marked the second consecutive year the Michigan Mile was held on Friday night, using it as a lead-in to the Festival of Races on Saturday. More than 1,500 were estimated to have crossed the finish line Friday, shattering the 1,200 mark set last year.
Crim Fitness Foundation race director Andy Younger, race director at the Crim Fitness Foundation, said before Friday's event started that pre-registration numbers surpassed last year's total.
Michigan Mile presented by ATI Physical Therapy
Bring Back the Mile Grand Prix Tour 2014
Flint, MI, Friday, August 22, 2014
MEN
1) Jack Bolas (SC), 4:07, $2000
2) Cleophas Ngetich (KEN), 4:09, $1500
3) Rob Finnerty (SC), 4:13, $750
4) Frezer Legesse (IN), 4:15, $500
5) Tom Scott (OH), 4:16, $250
6) Brandon Hudgins (NC), 4:19
WOMEN
1) Nicole Sifuentes (CAN), 4:45*, $2000
2) Heather Kampf (MN), 4:45, $1500
3) Sarah Brown (CA), 4:45, $750
4) Sara Vaughn (CO), 4:45, $500
5) Amanda Eccleston (MI), 4:46, $250
6) Sophy Jepchirchir (KEN), 4:47
7) Lauren Johnson (OR), 4:47
8) Susan Jerotich (KEN), 4:48
9) Neely Spence Gacey (MI), 4:49
10) Geena Gall-Lara (OR), 4:57
*event record (previous record, 4:48, Heather Kampf (MN), 2013)
Complete results and more at: Crim.org
Continue reading at: www.mlive.com