Camel City Indoor Mile Winner Cory Leslie Runs 3:57.81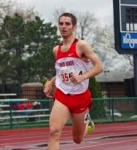 February 04, 2013
Three Milers go under 4:00; North Carolina indoor record by Leslie; top collegian at 4:05
By Craig Longhurst, JDL Fast Track
WINSTON‐SALEM, N.C. – (February 2, 2013) – JDL Fast Track hosted its first ever elite Mile as part of the Hilton Garden Innvitational on Saturday, February 2, resulting in the facility's first ever sub-4:00 minute Mile and a North Carolina State indoor record by Cory Leslie.
The Camel City Indoor Mile, part of the inaugural Bring Back the Mile Tour, is an elite Mile race on JDL Fast Track's 200m Mondo indoor track. JDL Fast Track committed more than $4000 in prize money available to the top three professional finishers, including time bonuses for breaking the "magical" 4:00.00 barrier. All of the prize money was paid out, as three professional Milers broke the 4:00.00 barrier.
The race was rabbited by Donnie Cowart, who finished 4th place in the 2012 U.S. Olympic Trials steeplechase. At the gun, Cowart went straight to the front to assume his pacing duties. 2012 Ohio State grad Cory Leslie tucked right in behind Cowart, with South African Peter van der Westhuizen in third. The rest of the pack tucked in behind in a single file row.
As the race progressed, Cowart and Leslie started to create a small gap to the rest of the field. Cowart took Leslie through 809m in approximately 1:58 and went through 1009m in 2:28. Cowart peeled off the track about 20 meters later, leaving Leslie alone to do the rest of the work.
If there was any doubt that Leslie would be able to maintain that pace alone, it was quickly erased, as he maintained the gap he and Cowart had created. Leslie passed 1209 meters in approximately 2:58. With sub-4:00 still very much in play, Leslie powered the remaining two laps and hit the tape in 3:57.81. It is believed this is the fastest indoor Mile ever in the state of North Carolina, and barely missed the overall state record of 3:57.30 set in 1973 by Ken Popejoy on May 12, 1973.
After the race, Leslie said he checked over his shoulder a couple of times after the rabbit dropped out. "I saw that I kind of separated from the field. I was really just focusing on running strong and trying not to fall off the pace too much."
Behind Leslie, Peter van der Westhuizen finished 2nd in 3:59.43 with Matthew Elliott of Brooks close behind in 3:59.96. The first collegian was Ford Palmer of Monmouth (NJ) in fourth with a time of 4:05.19.
Facility director Craig Longhurst was beside himself after the race. "A lot of people asked me before the race if we would see a sub-4:00 tonight. To be honest, I had no idea. The way these guys went after it, though, was amazing to watch. The rabbit did his job perfectly and the guys all tucked in and went after it. For us to accomplish three guys under 4:00 in our first year is fantastic. Now, we'll work on trying to find some sponsors to increase the prize money and make this race even bigger next year."
Longhurst also indicated that the response he received from the elite athletes after the race was phenomenal. Runner‐up van der Westhuizen noted, "I haven't run an indoor race for a few years and loved the atmosphere and excitement of the meet. The track is also great for a flat track and the longer curves really helped. I had a great time and enjoyed the race."
Third place finisher Matthew Elliott summed up the event this way: "The Camel City Mile was truly a first class event. The opportunity and venue were second to none in this area of the country. This was my first time running sub‐4 indoors, and I had many family and friends there to support me. A memory was made that will last a lifetime February 2nd, and I look forward to competing at this pristine facility in the near future!"
Camel City Indoor Mile
Winston-Salem, NC, Saturday, February 2, 2013
| | | |
| --- | --- | --- |
| 1) Cory Leslie | Furman Elite | 3:57.81*, $2000 |
| 2) Peter van der Westhuizen | South Africa | 3:59.43, $1250 |
| 3) Matthew Elliott | Brooks | 3:59.96, $875 |
| 4) Ford Palmer | Mammoth | 4:05.19 |
| 5) Matt Lincoln | Canada | 4:05.47 |
| 6) Isaac Presson | North Carolina | 4:07.97 |
| 7) Paul Chelimo | UNC-Greensboro | 4:09.41 |
| 8) Alexander Rose | Wake Forest | 4:09.65 |
| 9) Lee Gilmer | Furman Elite | 4:11.65 |
| 10) Alex Taylor | Appalachian State | 4:12.15 |
| Donald Cowart | Unattached | DNF - pace |
*North Carolina State indoor record (previous record, 3:58.84, Marcus O'Sullivan (IRL), Chapel Hill, NC, 01/22/83)
About JDL Fast Track
JDL Fast Track, one of the premier indoor track and field facilities in the southeast, is the brainchild of two former Wake Forest University runners and current real estate developers, David Shannon and Craig Longhurst, who identified and fulfilled a need for an area indoor track facility for use by colleges, high schools, local track clubs and youth track organizations.
The privately owned, dedicated indoor track and field facility, which opened in January 2012, houses a 200‐meter oval track with a Mondotrack FTX surface—the same surface that was used at the 2012 Olympic Games in London. Field event areas include two pole vault runways, two long/triple jump runways, one high jump apron and one throws area. The facility also includes a 100‐meter warm‐up track, office and meeting‐room space, a training room, and hospitality suites for coaches' or conference officials' meetings at large events.