Hingham's Julie McConville to run in prestigious Mile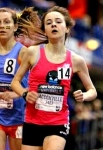 August 08, 2013
Track star set for Tommy Cochary High School Mile at Falmouth on Saturday evening
From the Hingham Journal
HINGHAM, Mass. — Hingham's Julie McConville will be one of twenty elite student athletes from around Massachusetts competing in the Tommy Cochary High School Mile on Saturday, August 10 at 7:00pm at the Falmouth High School track.
The high school Mile was renamed last year in honor of Tommy Cochary, a local Falmouth runner who was killed in a drunk driving accident in 1990.
This year, race organizers implemented a selection process to invite the best athletes who also embodied the values of the race and who have shown that they make smart choices in their lives. Julie was one of those student athletes invited to compete.
In memory of his life, the Cochary family will provide the winning female and male each with a $2500 grant to improve or implement change at their school in athletics or wellness. The schools, in collaboration with the donors, will be able to choose from options such as athletic equipment, team uniforms or afternoon wellness activities.
The race is part of the Falmouth Mile and Falmouth Road Race weekend. For more information about the Cochary High School Mile, go to: www.falmouthroadrace.com/high-school-mile
Continue reading at: www.wickedlocal.com/hingham