Wheating wins 1500m gold medal at Pan Am Games for USA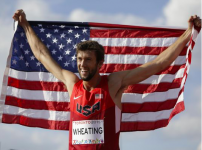 July 27, 2015
Two-time Olympian clocks 3:41.41 to win first medal on international stage; contributes to U.S. overall victory of 265 medals to Canada's 217.
By Kenny Jacoby, Daily Emerald
Former Oregon track & field star Andrew Wheating won gold in the men's 1500 at the 2015 Pan American Games in Toronto.
Wheating, who now runs for Nike OTC Elite, finished in 3 minutes, 41.41 seconds. He set the fifth-fastest time in the world (3:30.90) in Monaco, 2010.
Wheating's gold medal is his first as both a professional and a member of the Team USA. He was crowned NCAA champion when he posted a time of 3 minutes, 47.94 seconds in the 1500 for the Ducks in 2010.
This was the first time Wheating, 27, earned a medal on an international stage. Wheating finished 8th in his 1500 heat at the 2011 World Track & Field Championships in Daegu. He placed 12th at the 2013 USA Outdoor Track & Field Championships in Eugene and failed to qualify for the IAAF World Championships in Moscow.
Continue reading at: dailyemerald.com