U.S. Olympians and USA Road Mile & Event Champions Ready for 2022 Fleet Feet Liberty Mile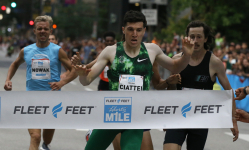 July 17, 2022
Downtown Pittsburgh's only evening road race, scheduled for Friday, July 22, offers a prize purse of $27,600 plus $2000 Open course record bonus money
From P3R
PITTSBURGH – The country's fastest Milers are ready to test their speed in the City of Champions at the 2022 Fleet Feet Liberty Mile, scheduled for Friday, July 22. Downtown Pittsburgh's only evening road race will feature U.S. Olympians Clayton Murphy, Heather MacLean and Ben Blankenship as well as 2022 USA Road Mile Champions and past event winners Emily Lipari and Vincent Ciattei.
In the women's race, MacLean makes her Pittsburgh debut after competing in the 1500 meters in the 2020 Tokyo Olympics. She will face tough competition from Lipari, who is a two-time Liberty Mile champion (2017, 2019), and Nikki Hiltz, who won gold in the 1500 meters at the 2019 Pan American Games and also represented the U.S. at the 2019 World Championships. Also joining them on the start line is Allie Wilson, who has a mile personal best of 4:26.04 and Hanna Green, who has a Mile personal record of 4:28.06 and represented the U.S. in the 800 meters at the 2019 World Championships.
"Runners always talk about the electric atmosphere in Pittsburgh for the Fleet Feet Liberty Mile so for years I have wanted to be a part of it," MacLean said. " I'm excited to be racing this year's pro Mile and I'm sure the amazing field of athletes will make it one for the books!"
"I always love getting the race down the streets of Pittsburgh," Lipari said. "The Fleet Feet Liberty Mile has always been a special race for me because regardless of success or failures that happen earlier in the season, I always feel grounded when I run down the streets of Pittsburgh."
In the men's race, Ciattei returns to the race after breaking last year's finishers tape and tying the event record of 3:59. He will compete against Murphy, who won a bronze medal in the 800 meters at the 2016 Olympics, and Blankenship, who won the Liberty Mile in 2016-17.
"The Fleet Feet Liberty Mile has been one of my favorite races for years," Blankenship said. "I always look forward to it on the calendar. The excitement that builds as you race down Liberty Avenue with fans lining the course is phenomenal. This year I look forward to being the first one through the tape in front of that crowd."
The Pro Mile features $23,000 in guaranteed prize money going five deep per gender with each race champion awarded $5000. Also, P3R will offer event record bonuses of $2000 if the winners set a new event record. The current record for the women's Mile is 4:27 set by Sinclaire Johnson in 2021. The men's record is 3:59 set by Craig Miller in 2012, Jordan McNamara in 2015 and Vincent Ciattei in 2021. The USATF-certified, u-shaped course takes participants on Penn and Liberty Avenues in downtown Pittsburgh. For more event information or to register, visit: LibertyMile.org
2022 Fleet Feet Liberty Mile Pro Fields