Willis Wins Inaugural Running Institute Mile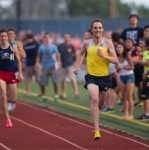 August 05, 2013
Olympic 1500m silver medalist just misses Michigan State record in front of 3,000-plus fans
By Matt Durr, AnnArbor.com
All that was missing from Saline High School's athletic fields Sunday night was the pep band as an estimated 3,000 people showed up to watch for the Running Institute Mile. Fans packed the track to watch 2008 Olympic 1500 meter silver medalist Nick Willis attempt to break the state record in the Mile.
"The experience here wasn't just from the fans perspective, it was from the runners' experiencing them as well," Willis said. "I came around the bend after 300 meters, I've never done this before in a race, and the whole home straight I looked up at the crowd and stared in awe.
"I was actually soaking up the gaze of having a full embankment of a crowd and I know at least 50 percent of those people aren't regular track attendees and that's something that is really special for us track people."
Most of the 3,000 fans came out to show support for Willis who received the loudest ovation when the runners were introduced prior to the race. A former University of Michigan track star, Willis won an Olympic silver medal in 2008 representing his native New Zealand. However, having lived in Ann Arbor for more than a decade, Willis said the experience meant more to him than typical races.
"This is the first time I've truly felt like a local and not just a foreigner who lives in Ann Arbor," Willis said. "That was really special in that sense."
Willis is recovering from an injury he suffered in May and used the event as part of his training routine as he prepares for the IAAF World Championships in Moscow next week.
While Willis came up short of setting the state record, still held by Michigan runner Kevin Sullivan with a time of 3 minutes, 55.87 seconds, Willis' time of 3:56.57 was good enough for first place in the race which featured long-distance runners from across the country.
"I'm a little bit disappointed, but honestly that was a selling point to help promote the event more than anything," Willis said. "You always want to have those sorts of targets, but winning the race is always your first primary goal. And for me coming back from injury, my goal was to get across the finish line without being too lame."
Continue reading at: www.annarbor.com