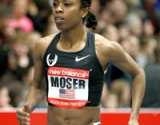 March 28, 2013
Three-time USA 1500 champ seeks return to top form.
By Peter Gambaccini, Runner's World
Treniere Moser, the USA 1500 meter champion from 2005 to 2007, came into the 2012 U.S. Olympic Trials needing an Olympic "A" standard and a top three finish to earn a trip to London. "It was a little...
Read More
comments